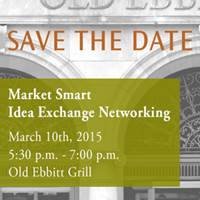 Momentum hosts Market Smart Networking event in Washington D.C.
SEATTLE, WA (February 26, 2015) — Momentum, a national plan-design-build firm, will be hosting a Market Smart Idea Exchange networking happy hour on March 10th at the Old Ebbitt Grill during the 2015 CUNA Governmental Affairs Conference (GAC), where Momentum is also participating as a conference exhibitor.
The event will kick off with retail banking expert Pitney Bowe Business Insight sharing proven strategies to drive growth through a credit union's retail branch network leveraging Momentum's Market Smart branch planning and measurement tool.
At this casual gathering, attendees will have the opportunity to share their successes and exchange ideas with industry peers. Drinks and hors d'oeuvres will be provided.
Space is limited so please RSVP online, or contact Paul Avery at marketsmart@momentumbuilds.com for details.
We are looking forward to meeting you at the GAC!
About Momentum
Momentum is a national integrated plan-design-build facilities firm. For the past decade, purpose driven organizations have come to Momentum to create innovative facilities that drive business strategy, empower people and leverage teamwork to accelerate results.  
---