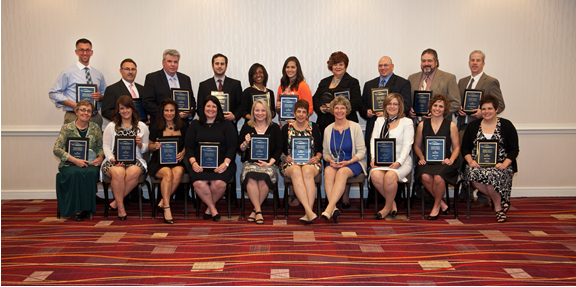 MontCo Educators Honored with 7th Annual "Voices of Inspiration" Awards
WARMINSTER, PA (May 10, 2013) Freedom Credit Union and the Montgomery County Intermediate Unit (MCIU), along with guest speaker Deanna Durante, an NBC 10 Philadelphia reporter, recognized exemplary educators in Montgomery County with the Voices of Inspiration Awards for Teaching Excellence, on May 8, 2013 at a special dinner ceremony.
Twenty-three finalist— one from each of the twenty-one Montgomery County school districts, one from a non-public school in the county, and one from the MCIU— were honored at the ceremony with a plaque and a monetary award, which took place at the Philadelphia Marriott West in Conshohocken, PA. Ms. Durante presented the night's awards.
Among the 23 finalists, three grand-prize winners were also chosen: Christine Grudzinski (General Nash Elementary School – North Penn School District), Marget Bluefeld (Upper Merion Area Middle School – Upper Merion Area School District), and Carol Ramsey (Souderton Area High School – Souderton Area School District).
Voices of Inspiration, initiated in 2007, received an especially enthusiastic response this year, with 745 nominations, and the participation of all districts. Freedom is committed to improving communities through financial education, and the Voices of Inspiration program is one important way to honor that commitment.
"Freedom is proud to recognize this well-deserving group of educators as true voices of inspiration," said Lee T. MacMinn, Freedom Credit Union President/CEO.  "We are happy that Voices of Inspiration has received such a warm response and great participation from the Montgomery County School Districts."
Approximately 130 educators, superintendents, and other supporters joined Freedom to commend the awardees on their superior commitment to teaching.  The event recognized the finalists with a $100 award and gave an additional $500 to the three grand-prize winners (one high school, one middle school, and one elementary school teacher).
"The seventh annual Voices of Inspiration awards were certainly a success in recognizing outstanding teachers in Montgomery County Schools," said Dr. Jerry W. Shiveley, MCIU Executive Director/CEO.  "I am pleased that Freedom Credit Union is supporting an event that focuses on the dedication of educators in our schools and gives them the recognition they deserve."
For more information about Voices of Inspiration or to view a list of the 23 finalists, visit https://www.freedomcu.org/freedomcu/VoicesInspiration.asp?nav=211.
About Freedom Credit Union
Freedom Credit Union, chartered in 1934, is a community-based, full-service financial institution that offers a banking alternative to consumers. Anyone who lives, works, worships, performs volunteer service, or attends school in Bucks, Chester, Delaware, Montgomery, or Philadelphia Counties is eligible to use its services.  Freedom Credit Union has over $600 million in assets and more than 59,000 members, operating branch offices in Abington, Lansdale, Philadelphia and Warminster, Pennsylvania.
Like Freedom on Facebook.
Follow Freedom on Twitter.
Subscribe to Freedom's channel on YouTube.
About MCIU
The Montgomery County Intermediate Unit is a regional educational service agency that provides dynamic, visionary leadership, and effective, efficient services for constituent school districts, schools, and students.  The MCIU serves 22-public school districts and over 170 nonpublic schools in Montgomery County.  Estimated annual revenues are $105 million and the number of regular employees is approximately 500.
---