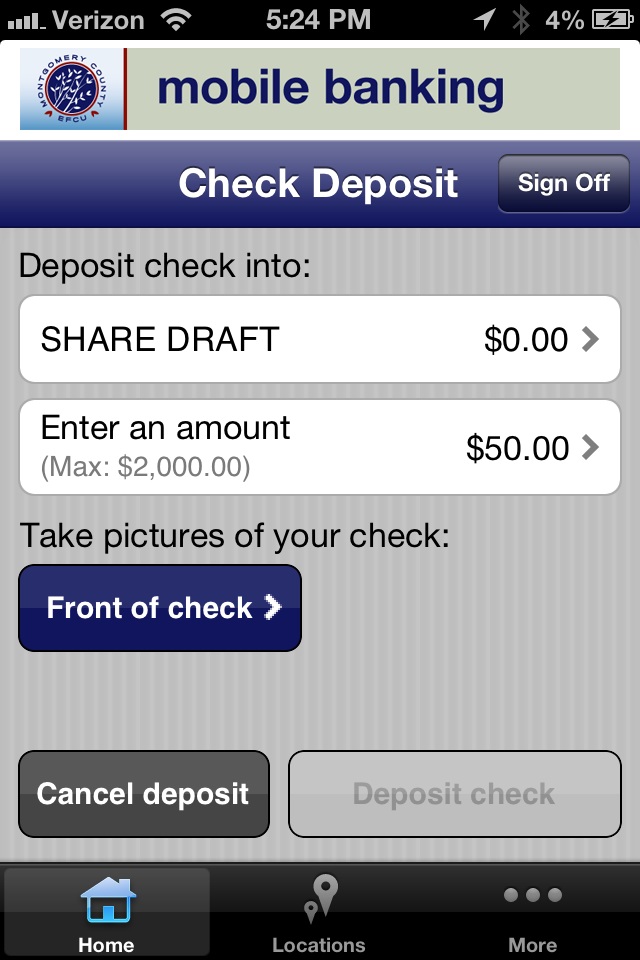 Montgomery County Employees Federal Credit Union Introduces Mobile Remote Deposit Capture to Mobile Banking Services
GERMANTOWN, MD (April 9, 2013) – Montgomery County Employees Federal Credit Union (MC EFCU), a Montgomery County, Md.-based full-service financial institution, federally chartered as a credit union, has introduced Mobile Remote Deposit Capture to its growing mobile banking services.
By using the new application on their smartphones, MC EFCU members can quickly and easily deposit checks anywhere they are through the credit union's free online banking system. MC EFCU added Mobile Remote Deposit capture technology to its existing mobile banking app, already available to members.
"We are pleased to launch the Mobile Remote Deposit Capture function, which gives our members the convenience and security they value," said Jim Norris, President and CEO of MC EFCU. "We are constantly working to provide our members with technologically advanced tools to handle their finances. This newest addition to the mobile banking option assures our customers can have a branch experience when they're not close to one of our branches."
To use mobile deposit remote capture, members must login through the MC EFCU Mobile Banking application, tap "deposit checks," endorse the check, enter the check amount, take a picture of the front and back of the check, and tap the submit deposit button to complete. Members will then get a confirmation number, and a confirmation email if requested. The application is now available in the App Store and Google Play.
A recent MC EFCU membership survey indicated that 53 percent of members reported using a mobile device and/or tablet for their online banking services instead of using a PC to access their financial institution.
Recently, MC EFCU expanded its charter to be able to serve additional public sector employees from Montgomery County agencies, including employees and retirees from both Montgomery County Public Schools and Montgomery College. MC EFCU also provides an opportunity for membership to individuals who are supporting members of the non-profit ARC of Montgomery County.
For more information about the Montgomery County Employees Federal Credit Union, visit www.mcefcu.org.
About Montgomery County Employees Federal Credit Union
Montgomery County Employees Federal Credit Union offers its members a comprehensive portfolio of banking products and services. MC EFCU provides all of the conventional products and services an individual expects from a financial institution, but also provides its members with access to the latest state-of-the-art products and services. Mobile banking, text banking, on-line banking and bill pay, are just some of the cutting edge financial services MC EFCU offers to its members. MC EFCU serves the employees of government agencies in Montgomery County, Md., as well as those from a number of other area organizations and companies. Visit: www.mcefcu.org for more information.
---