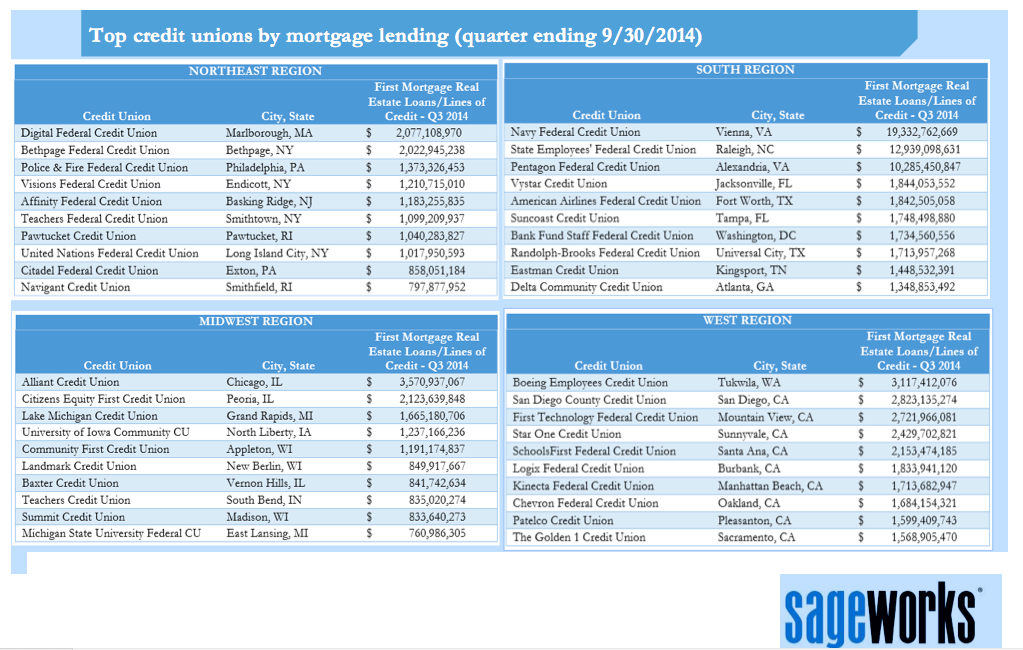 Mortgage applicants find a home at credit unions: Top credit unions for buyers regionally
Ranking includes top 10 credit union lenders based in Northeast, South, Midwest and Western U.S.
(December 17, 2014) — More than three quarters (31 of the 40) of the credit unions named to the list are each lending more than $1 billion to homebuyers. Several of the top lenders serve a large constituency tied (at least historically) to a specific employer or organization – such as Navy Federal (with nearly $20 billion in mortgages), State Employees' Federal (with nearly $13 billion) and Boeing Employees Credit Union (totaling $3.1 billion). Additionally, many of the other top lenders were highly concentrated in and around the largest U.S. cities, such as the New York and Los Angeles metropolitan areas.
Top credit unions in the Southern U.S. held the largest volume among the four regions, with more than $53 billion. The region also includes the largest total number of credit unions, with more than 2,100 based in the South.
The dataset was researched through Sageworks Bank Information, a web-based data platform that includes data on all U.S. banks and credit unions. All 6,000+ credit unions were evaluated for the list. The top 10 credit unions by volume of first mortgage real estate loans and lines of credit with headquarters within each of the four major geographic regions were identified and ranked.
Libby Bierman, analyst at Sageworks, added, "Data from the Census Bureau shows that, throughout the third quarter of 2014, new-home sales have been growing. The credit unions that top this list are likely seeing some of that growth coming through their mortgage departments."
"Whether it's through specific first-time homebuyer campaigns like some institutions have launched or just from the increased demand among consumers in their markets, the credit unions on this list process a large volume of mortgages," said Bierman. "Homeownership rates as a whole may be down in U.S., but these credit unions – along with banks that provide mortgages – are helping those potential borrowers who are interested in owning."
For more information on Sageworks Bank Information or to sign up for a free trial, visit bankinfo.sageworks.co
About Sageworks
Sageworks is a financial information company that provides risk management, financial analysis and business valuation solutions to accounting firms and financial institutions. Visit www.sageworks.com to learn more. 
---