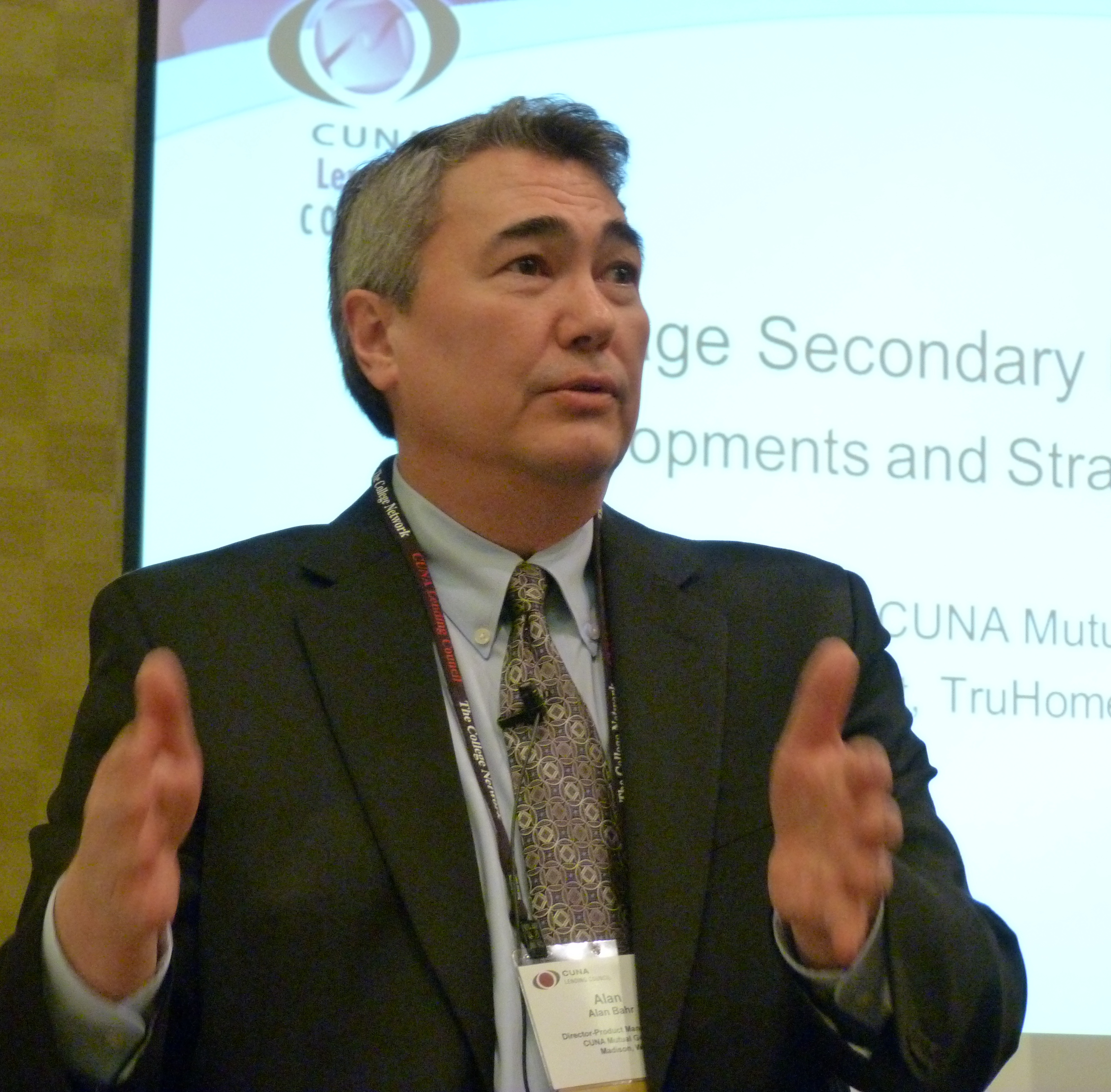 Mortgage finance landscape about to change, but to what?
CUNA Mutual Group's Alan Bahr Offers Lending Council Attendees Insights on Future State
PHOENIX, AZ (November 4, 2013) — A lot of unanswered questions remain on the future of the mortgage finance industry, but changes are coming and what emerges could look very different than what credit unions and members are experiencing today.
Alan Bahr, director, Lending, CUNA Mutual Group, told attendees of the CUNA's Lending Council annual conference, that any post-meltdown retooling of the mortgage finance industry must address four structural issues.
"Some of the key issues that must be addressed are: the federal government's role in mortgage finance and the future of Fannie Mae and Freddie Mac," Bahr told attendees Monday. "In addition, we need to determine if there's a better way to originate, package and deliver loans to investors and, how to attract new private capital into the marketplace."
Bahr said a consensus is growing in Congress and with the administration that there should be some federal involvement in mortgage finance. He added the 30-year fixed rate mortgage probably won't survive if there isn't some sort of government involvement.
"Fact is, very few borrowers can raise 30-year, fixed-rate money," Bahr said. "Though private capital solutions are preferred by many, the capital markets don't like to provide long-maturity, fixed-rate funding. The only reason 30-year mortgages are viable today is that Fannie and Freddie back them up."
Bahr also said many industry stakeholders believe a "wind-down" of the Government-Sponsored Enterprises (GSEs) must occur but no one has spelled out what life will look like after Fannie and Freddie. Bahr suggested the biggest beneficiary of a complete GSE wind-down would be Wall Street, "those who gave us the subprime mess." That realization might change views of how drastic the wind-down should be.
Regarding better ways to package, originate and deliver loans, industry associations and lawmakers are increasingly saying a new – and consistent – way to turn loans into securities for investment is needed.
"Then there's the question of how do you encourage more private capital," Bahr asked. "Everyone wants more private capital, but the bigger question is how do you make it happen? In my mind, this can't be answered without addressing the other structural issues first."
Bahr told the credit union lenders not to expect radical changes in real estate finance as long as the GSEs are the dominant secondary mortgage forces. As the GSEs are wound down, or reinvented, "look for new lending programs to emerge." He urged credit unions to listen to what CUSOs and other aggregators are saying because they'll be in touch with deal sponsors and have insight to what programs will be offered in the future.
"Credit unions need to stay ahead of what's being offered in the marketplace so they don't lose their market share," Bahr added. "Select someone in your credit union to keep abreast of the new programs and products, and then disseminate that information to those who can take action on it."
Bahr says the future of mortgage finance could become extraordinarily complex with multiple loan programs offered, but suggested credit unions may have leverage with regulators, who have shown sensitivity to the needs of small lenders. "Use that balance sheet as a competitive tool," he added. "When chaos occurs, remember, you have an important competitive weapon in your balance sheet. Use it, but use it wisely."
To learn more, follow @CUNAMutualGroup on Twitter, circle +CUNA Mutual Group on Google+, or visit http://www.cunamutual.com/pressroom
CUNA Mutual Group insurance, retirement and investment products provide financial security and protection to credit unions and their members worldwide. With more than 75 years of true market commitment, CUNA Mutual Group's vision is unwavering: To be a trusted business partner who delivers service excellence through customer-focused products and market-driven insight. More information on the company is available on the company's website at www.cunamutual.com
CUNA Mutual Group is the marketing name for CUNA Mutual Holding Company, a mutual insurance holding company, its subsidiaries and affiliates. Life, accident, health and annuity insurance products are issued by CMFG Life Insurance Company. Property and casualty insurance products are issued by CUMIS Insurance Society, Inc. Each insurer is solely responsible for the financial obligations under the policies and contracts it issues. Corporate headquarters are located in Madison, Wis
---