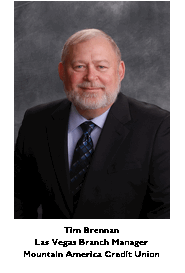 Mountain America Credit Union opens new Las Vegas branch
WEST JORDAN, UT (November 4, 2013) — Mountain America Credit Union celebrates the opening of its new Las Vegas branch. Located at 7208 West Lake Mead Boulevard, the new branch is one of four Mountain America Credit Union branches in Nevada<https://www.macu.com/Branch-Locations/Location-Detail?search=las+vegas%2c+nv&locid=180>. A public grand opening celebration and free barbecue is scheduled for Saturday, November 16, from noon to 2 p.m.
The Las Vegas branch is managed by Tim Brennan. He has been with Mountain America since 2006 and began his banking career more than 15 years ago. Tim spent 23 years in the U.S. Marine Corps prior to joining Mountain America.
"Our new location will not only offer more convenient access, but will allow us to better serve our members," says Brennan. "Some of our new services at the new Las Vegas branch include larger drive-thru lanes, a drive-up ATM, safe deposit boxes, a night drop and more room to accommodate investment, SBA, commercial real estate and mortgage representatives within the branch."
The Las Vegas branch provides a wide range of financial products and services, including traditional savings, insurance, investments, auto and RV loans, and a full array of mortgage loans and services. Mountain America also offers an innovative checking account called MyStyle, which allows account holders to customize their accounts with rewards such as music downloads, loan discounts and credit monitoring. Being federally chartered, Mountain America also provides a wider assortment of services, including real estate and business lending.
"We are very excited to open this new branch in Las Vegas," says Jason Rogers, senior vice president of branch administration for Mountain America. "Tim and his staff are ready to help the residents of Las Vegas save money and improve their financial situation."
Mountain America Credit Union has more than $3.5 billion in assets and serves more than 420,000 members, wherever they are, through online and mobile banking, 76 branches in five states, and provides access to more than 30,000 ATMs and 5,000 shared-branching locations nationwide. With Utah credit union roots dating back to the 1930s, Mountain America has become a tradition for many members, offering a variety of financial products and services for consumers and businesses, including savings accounts, auto loans, checking accounts<https://www.macu.com/mystyle-checking>, mortgage loans, business checking, student loans, SBA loans and retirement options. Visit www.macu.com for more information.
---