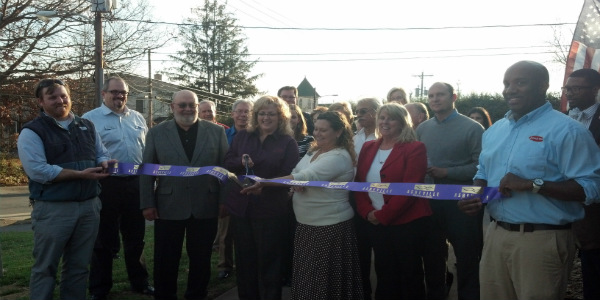 Mountain Credit Union holds ribbon cutting / grand reopening event
ASHEVILLE, NC (December 4, 2013) —  Mountain Credit Union, in coordination with the Asheville Area Chamber of Commerce, held a Ribbon Cutting and Grand Reopening Event at the Asheville, NC branch on Wednesday December 4, 2013. For the past 6 weeks, the building, which was originally constructed in 1978, has undergone major renovations.
"The staff members have worked extra hours through all of the dust and noise and take pride in the fact that we didn't have to close even one day during the construction," said Amy Woody, Mountain Credit Union's Executive Vice President.  "We also appreciate the patience of our members and definitely feel that the time and effort was worth it. We are very proud of the building and how it turned out," she added.
Mountain Credit Union was first chartered in April 1963 by a small group of Federal employees in Asheville, NC. The Credit Union moved around in leased space until purchasing the property at 219 Haywood Street in 1978 to build its own building.
"We are so proud of our beautiful new "home".  The support of management, our staff and our members means a lot to us," said the Branch Manager Lisa Moore. "We look forward to continuing to serve our members in this building for many years to come."
Mountain Credit Union, a $157M asset credit union, has seven branch offices located throughout Western North Carolina and serves anyone who lives, works, worships or attends school in Buncombe, Cherokee, Clay, Graham, Haywood, Henderson, Jackson, Macon, Madison and Swain Counties of North Carolina. For more information, please visit www.mountaincu.org
---