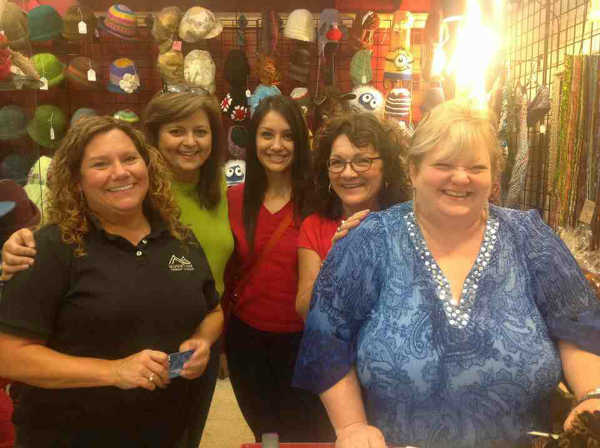 Mountain Credit Union holds their third "Cash Mob"
ASHEVILLE, NC (October 25, 2013) — Mountain Credit Union held their third "Cash Mob" on Friday October 18, 2013 at Asheville, NC Home ~ Crafts in Asheville, NC.
A Cash Mob is an organized event that encourages a group of people to patronize a local business to make purchases on a certain day or during a certain time period. The idea is to support the business itself and also to promote general community awareness.
The idea came from other Credit Unions and Credit Union Leagues around the country and from similar events held by other "shop local" organizations in the area. It began as a "Featured Business of the Month" highlight on Mountain Credit Union's Facebook page. "Judy and Marie have supported the credit union for many years," said Lisa Moore, who is Mountain Credit Union's Branch Manager in Asheville. "Their store is a great example of what makes Asheville unique and their support of the artisans in our local community shows that they have a lot of the same 'community first' values that our credit union has."
"We really appreciate the extra word of mouth and social media advertising that the credit union was able to generate for us," said Judy Quinn, one of the store's owners. "We hope that this event will spark new interest in the type of products that we offer!"
Asheville, NC Home ~ Crafts began as a source for local artisans to sell their work and also offers craft supplies. Judy Quinn and Marie Hendrix opened the store with their own products and those of 25 other artisans at the historic Grove Arcade and immediately sold out. 11 years later, they have continued to expand and now sell for over 100 artisans, all from Western North Carolina.  They are both winners of multiple blue ribbons at the Mountain State Fair.
The Credit Union plans to keep choosing other businesses for the "Featured Business of the Month" and Cash Mob and continue their efforts to support the small business communities in the areas that they serve. Previous Cash Mob events have been held in Fletcher and Franklin.
Mountain Credit Union has seven branch offices located throughout Western North Carolina and serves anyone who lives, works, worships or attends school in Buncombe, Cherokee, Clay, Graham, Haywood, Henderson, Jackson, Macon, Madison and Swain Counties of North Carolina. For more information, please visit www.mountaincu.org
---