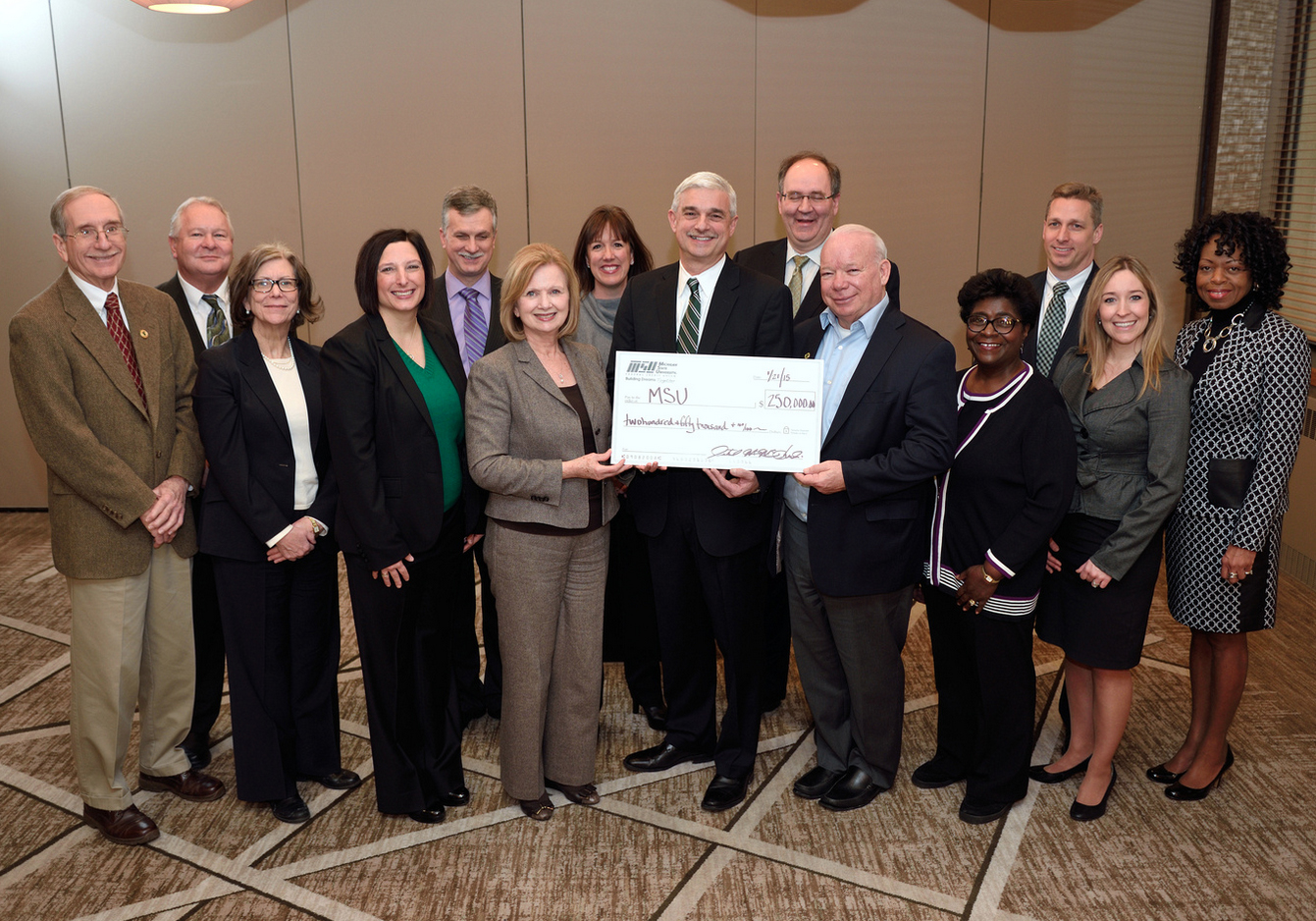 MSUFCU partners with Visa in MSU donation
Donates $250,000 to support financial education for MSU students
EAST LANSING, MI (May 21, 2015) — April Clobes, President and Chief Executive Officer (CEO) of MSU Federal Credit Union (MSUFCU), is pleased to announce that MSUFCU, in partnership with Visa Inc., will provide Michigan State University $250,000 in funding for the next eight years to underwrite the Financial Peer Education Program, which will be available to MSU students beginning in Fall 2015.
MSUFCU will develop the financial education curriculum, which will include budgeting in college and after, understanding credit, and identity theft. In addition, peer educators will provide one-on-one sessions to assist students in establishing their budgets.
"For most of our students, coming to college is an induction into adult independence and its responsibilities," said MSU Provost June Pierce Youatt. "The opportunity afforded through this generous gift from Visa and MSUFCU will help students gain skills and understanding that will be invaluable to them, whether they are just beginning their college experience or getting ready to graduate and begin their professional careers."
In addition to this new financial education program, MSUFCU also offers Financial 4.0, a financial website geared toward college-age students. The site houses blogs on financial topics, financial education videos, free financial resources, and contests, providing students with the opportunity to improve their financial literacy
Clobes commented, "We're very pleased to have the opportunity to enhance our partnership with MSU by creating a bigger financial education presence campus. We are pleased to provide students with the financial knowledge and resources that will help them achieve their goals and dreams — during college and beyond."
For 20 years, Visa has been a private sector leader in developing innovative, free programs that help people effectively learn the fundamentals of personal finance, including budgeting, saving, responsible spending and the wise use of credit. Visa's flagship financial literacy initiative, Practical Money Skills for Life, is a free program to help parents, teachers, students, and consumers of all ages learn the essentials of personal financial management.
MSU Federal Credit Union, the world's largest university-based credit union, offers a full range of personal – and business-related financial services to Michigan State University and Oakland University faculty, staff, students, alumni association members, and their families worldwide in addition to a variety of select employee groups. Founded in 1937 by a few MSU professors and employees, MSUFCU now has 14 branches, over 197,000 members, more than $2.8 billion in assets, and over 642 employees. MSUFCU was named 2014 Credit Union of the Year by the National Association of Federal Credit Unions (NAFCU) and as the #1 employer on the Detroit Free Press 2014 Top Workplaces list.
Photo caption: Left to Right: John Gaboury, associate provost for Academic Services, MSU; Rick Shipman, director of Financial Aid, MSU; Lucille Fallon, executive director, Corporate and Foundation Relations, MSU; April Clobes, president and CEO, MSUFCU; Mike Hudson, director, MSUFCU; June Pierce Youatt, provost, MSU; Jody Pearce, senior processing specialist, Visa; Ken Munzing, head of Central Region, US Financial Institutions Sales, Visa; Bob Groves, vice president for University Advancement, MSUFCU; Pat McPharlin, former president and CEO, MSUFCU; Angela Brown, vice chair, MSUFCU Board of Directors; Jeff Jackson, senior vice president, Business Lending and Operations, MSUFCU; Alyssa Nugent, account executive, US Financial Institutions Sales, Visa; and Denise Maybank, vice president for Student Affairs and Services, MSU.
---