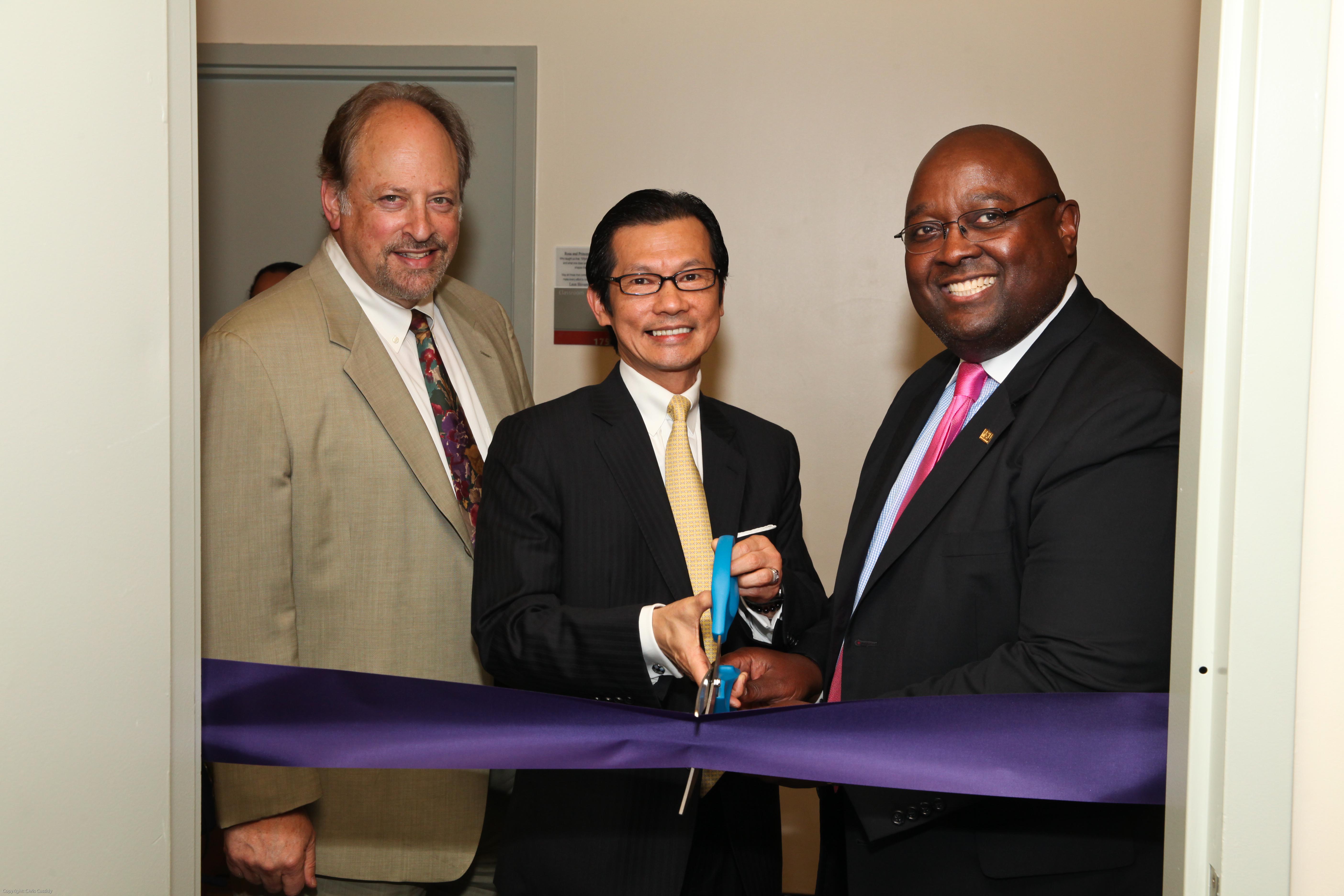 Municipal Credit Union dedicates classroom at Baruch College
NEW YORK CITY, NY (September 4, 2014) —  In continuation of its ongoing partnership with Baruch College, Municipal Credit Union (MCU) and Baruch College officially dedicated the Municipal Credit Union Classroom on August 26th. The new MCU Classroom is a 40-seat classroom in the school's William and Anita Newman Vertical Campus.  Cutting the ribbon  on the new classroom (pictured from left to right) are: Baruch President Mitchel B. Wallerstein, MCU President/CEO Kam Wong and MCU Chairman of the Board Mark S. Brantley, Esq.
"We hope that the education provided to students in the MCU Classroom will empower them to change the world, starting with their communities, in the ways in which MCU continues to do so in the credit union tradition of 'People Helping People,'" said Mr. Wong during his dedication speech. "As an alumnus of this esteemed institution, it is a honor and sincere pleasure to dedicate this classroom."
Municipal Credit Union (MCU) is the oldest credit union in New York State and one of the oldest and largest in the Country. Established in 1916 and headquartered in New York City, today MCU has assets of over $2 billion and offers a full range of financial services to its over 350,000 members. With branches in New York City, Westchester and Long Island, its members also have access to the credit union's large and growing ATM network. Eligibility to open accounts at MCU is available to New York City and Yonkers municipal employees; state and federal employees who work in the five boroughs; health care professionals who work in New York State; members of select industry groups; employees of private colleges in New York City and private and public colleges in Nassau, Suffolk, and Westchester; certain family members, and qualifying retirees. MCU is an equal opportunity lender, and deposits are federally insured to at least $250,000 by the National Credit Union Administration (NCUA), a U.S. government agency. For more information about Municipal Credit Union, visit www.nymcu.org.
---