NAFCU, other trades joint letter to Rep. Neugebauer urging support for H.R. 1266
Good evening,
Below is NAFCU's and other financial trades' joint letter to House Financial Services Subcommittee on Financial Institutions and Consumer Credit Chairman Randy Neugebauer, R-Texas, expressing their support for H.R. 1266, the "Financial Products Safety Commission Act of 2015." The bill was introduced by Neugebauer today and will ensure an independent financial product safety five-member commission to oversee the Consumer Financial Protection Bureau (CFPB).
"The CFPB has tremendous authority to supervise a multi-trillion dollar industry, which as we have learned, can have incredible ramifications on our economy," the groups said in their letter to Neugebauer. "As such, it is imperative the CFPB remain stable, be deliberative, and remain bipartisan – for the sake of the American consumer and the U.S. economy."
If you would like more information on this matter or would like to speak about this with a NAFCU expert, please let me know.
Thank you.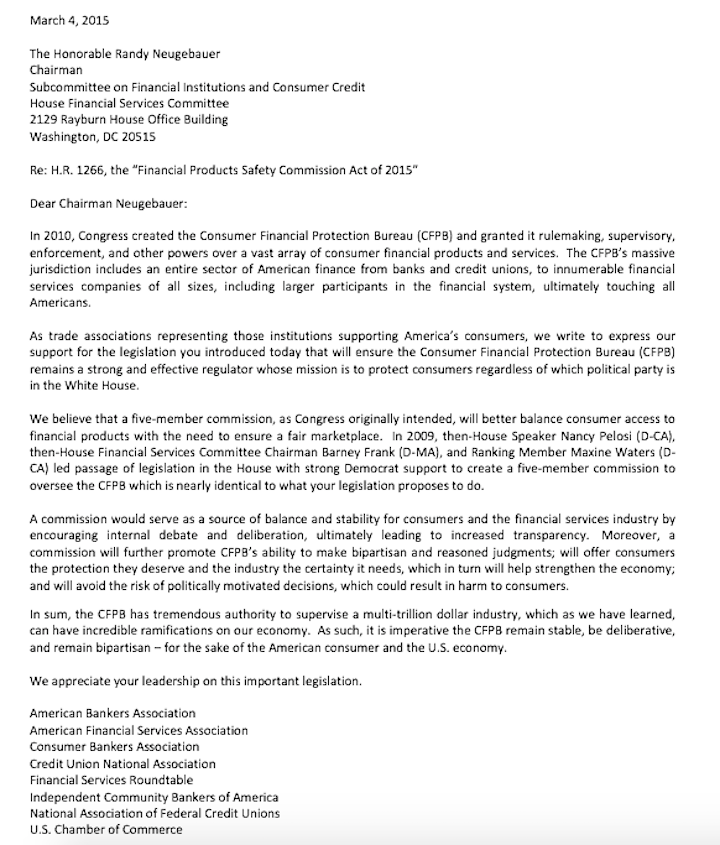 ---