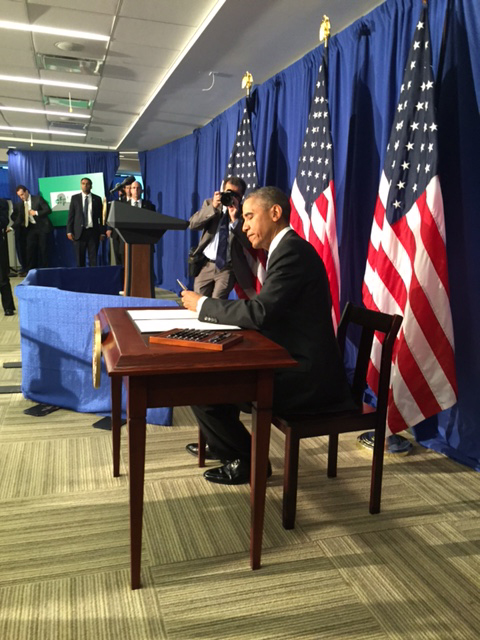 NAFCU's Berger attends President Obama's call for data breach legislation
WASHINGTON, DC (October 17, 2014) — National Association of Federal Credit Unions (NAFCU) President and CEO Dan Berger today attended an event at the Consumer Financial Protection Bureau (CFPB) where President Obama called for the deployment of chip-and-PIN security for credit and other payment cards and urged Congress to "act with urgency" on data breach legislation. The event was attended by senior executives of financial institutions and large retailers, as well as representatives of consumer groups.
"NAFCU thanks the president for his leadership in addressing the growing cyber threats to consumers' data, and we will assist wherever we can to help credit unions and their members prepare," Berger said. "We will also continue our efforts to win passage of legislation to hold retailers and merchants to national data security standards such as those required now of credit unions and other financial institutions."
Berger added, "National data security and breach notification standards, for all segments of the payments system, are essential for any program to succeed in keeping consumers' personal and financial data as safe as possible."
During today's event, the president called on Congress to act on legislation to bring clarity to expectations consumers should have when their data is breached and steps companies must take to notify their customers or risks following such breaches. Noting the variety of state laws on data security, the president called for "one clear national standard that brings certainty to business and keeps consumers safe."
The president also said the White House will convene a Summit on Cybersecurity and Consumer Protection later this year. The summit will bring together major stakeholders on consumer financial protection issues to discuss how all members of the financial system can work together to better protect American consumers and their financial data.
Acknowledging there is no silver bullet to guarantee data security, the president nonetheless called on stakeholders to harness enhanced security measures. For the administration's part, the president signed an executive order calling for chip-and-PIN on newly issued and existing government credit cards and debit cards (such as Direct Express); and upgrading retail payment card terminals at federal agency facilities to accept chip-and-PIN.
About Us
The National Association of Federal Credit Unions is the only national trade association that exclusively represents the interests of federally chartered credit unions before the federal government and the public.
---