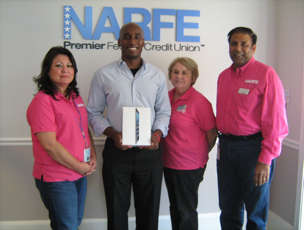 NARFE Premier Federal Credit Union announces their iPad winner from their real estate loan promotion
ALEXANDRIA, VA (September 23, 2014) — last April the credit union rolled out a promotion to incentivize members to think of them if they needed a real estate loan. If a member closed on the loan by August 31, 2014, they were entered into a drawing to win an iPad. The iPad is engraved with the credit union's logo, compliments of PSCU, their credit card processor.
The lucky winner of the iPad drawing was member Edward H. Smith, II, pictured below along with Alexandria branch team, Rosemary Rodriquez, Member Relations Representative, Kathy Hoyle, Branch Manager and Ivan Paul, Member Processing Specialist.
NARFE Premier Federal Credit Union, headquartered in Alexandria, VA, is a member-owned cooperative, providing financial solutions to active and retired federal employees and their families. Originally chartered in 1935, NPFCU serves more than 10,000 members nationwide, has assets of approximately $150 million, and has been helping members afford life for 80 years. To learn more about NARFE Premier Federal Credit Union, visit narfepremierfcu.org.
---