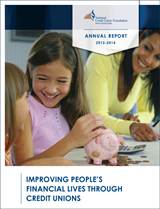 National Credit Union Foundation 2013-2014 annual report released
MADISON, WI (August 25, 2014) — The National Credit Union Foundation (NCUF) released their 2013-2014 Annual Report entitled "Improving People's Financial Lives through Credit Unions." The report highlights NCUF activities related to their programs and grants over the past twelve months.
"As the charitable arm of America's credit union movement, the National Credit Union Foundation is proud to keep purpose constant," writes Laida Garcia, NCUF Chairman and President/CEO of floridacentral Credit Union, and Gigi Hyland, NCUF Executive Director, in the report's introduction. "It's the framework for which we work and support credit unions to improve people's financial lives. As you browse the following pages of this report, you can already see the progress we've made in helping people achieve financial freedom, and the positive potential for our future working with credit unions across the country."
Click here to view/download the report or visit ncuf.coop>News & Publications.
The report also includes:
Infographic with NCUF highlights
Sections on how NCUF:
o   makes financial education engaging & meaningful
o   collaborated to bring financial education to Children's Miracle Network (CMN) patients & families
o   ignites passion & instilling Knowledge about the credit union difference
o   offers resources to help credit unions better identify and meet consumers' financial needs
o   unites resources to help credit union people during disaster
o   honors & celebrates tireless dedication and innovation
2014 NCUF Corporate Supporters & key Community Investment Fund investors
2013 NCUF donor listing
Financial summary
About the National Credit Union Foundation (ncuf.coop):
The National Credit Union Foundation (NCUF) is the charitable arm of the US credit union movement and works as a catalyst to improve people's financial lives through credit unions. Through NCUF grants and programs, credit unions provide widespread financial education, create greater access to affordable financial services, and empower more consumers to save, build assets, and own homes. Donations to the Foundation enable credit unions to help their members reach life-changing goals and achieve financial freedom.
---