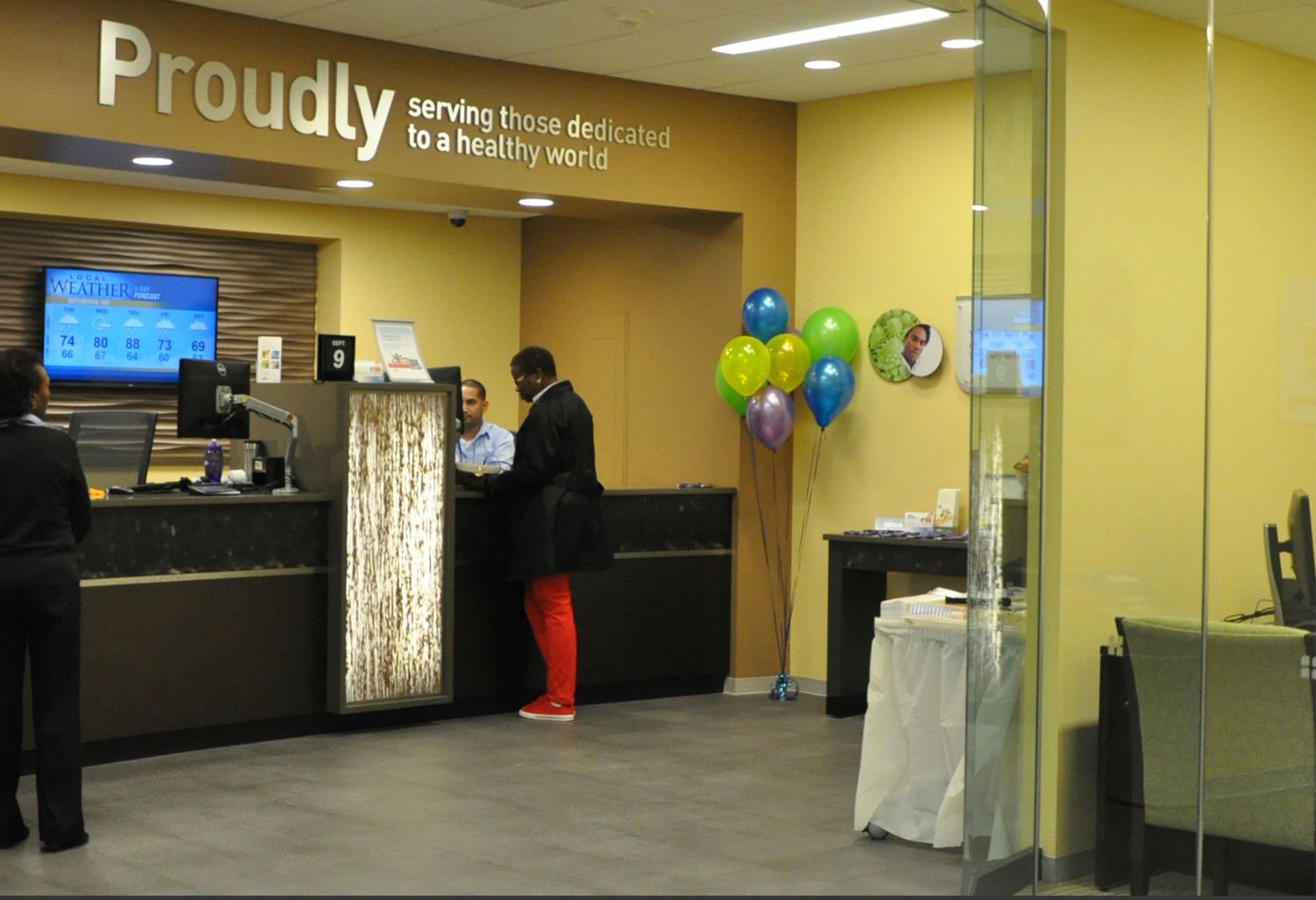 National Institutes of Health Federal Credit Union celebrates its new Fishers Lane Branch opening
SEATTLE, WA (September 18, 2014) — The National Institutes of Health Federal Credit Union (NIHFCU) opened its newest branch on Fishers Lane, Rockville, MD. The new branch will serve over 2,000 NIH employees working at the National Institute of Allergy and Infectious Disease (NIAID) Twinbrook campus and its members in the surrounding communities. This is the fourth branch to utilize the branding, merchandising and design elements of the original retail branch prototype developed and implemented by the Momentum team.
"We are honored to be accompanying the National Institutes of Health and the NIAID to this beautiful and expansive facility," said Rick Wieczorek, NIHFCU President & CEO. "This new branch underscores our commitment to providing unmatched banking convenience for the dedicated professionals participating in groundbreaking research for the benefit of all of us. As the nation's largest credit union serving the biomedical industry, we remain committed to providing affordable loans and banking solutions that save these exceptional individuals both time and money."
The Fishers Lane branch will continue to contribute to the NIHFCU's membership growth as the Credit Union celebrates its 75th anniversary in January, 2015. "The branch provides a comfortable and inviting environment where the NIHFCU team can help members find solutions for their financial needs. The branch¹s location on the NIAID Twinbrook campus underscores the Credit Union¹s goal of providing unsurpassed service to the biomedical community," said Mark Alguard proundly. Mark is the Lead Project Manager at Momentum who has led all four NIH Credit Union projects including locations in National Cancer Institute Shady Grove Campus, Sibley Memorial Hospital, and National Cancer Institute (NCI) Shady Grove Campus, Sibley Memorial Hospital, and Downtown Washington DC adjacent to the George Washington University campus.
About The National Institutes of Health Federal Credit Union (NIHFCU)
The NIHFCU provides a full range of world-class, state-of-the-art financial products and services for both personal and business banking. The Credit Union understands the unique needs of biomedical professionals, and thus, all of its products and services are innovatively designed for easy and convenient banking.
About Momentum
Momentum is a national integrated design-build facilities firm. For the past decade, purpose driven organizations have come to Momentum to create innovative facilities that drive business strategy, empower people and leverage teamwork to accelerate results.  For more information contact Jay-E Emmingham at jay-e@momentumbuilds.com or (206) 267-1900.
---