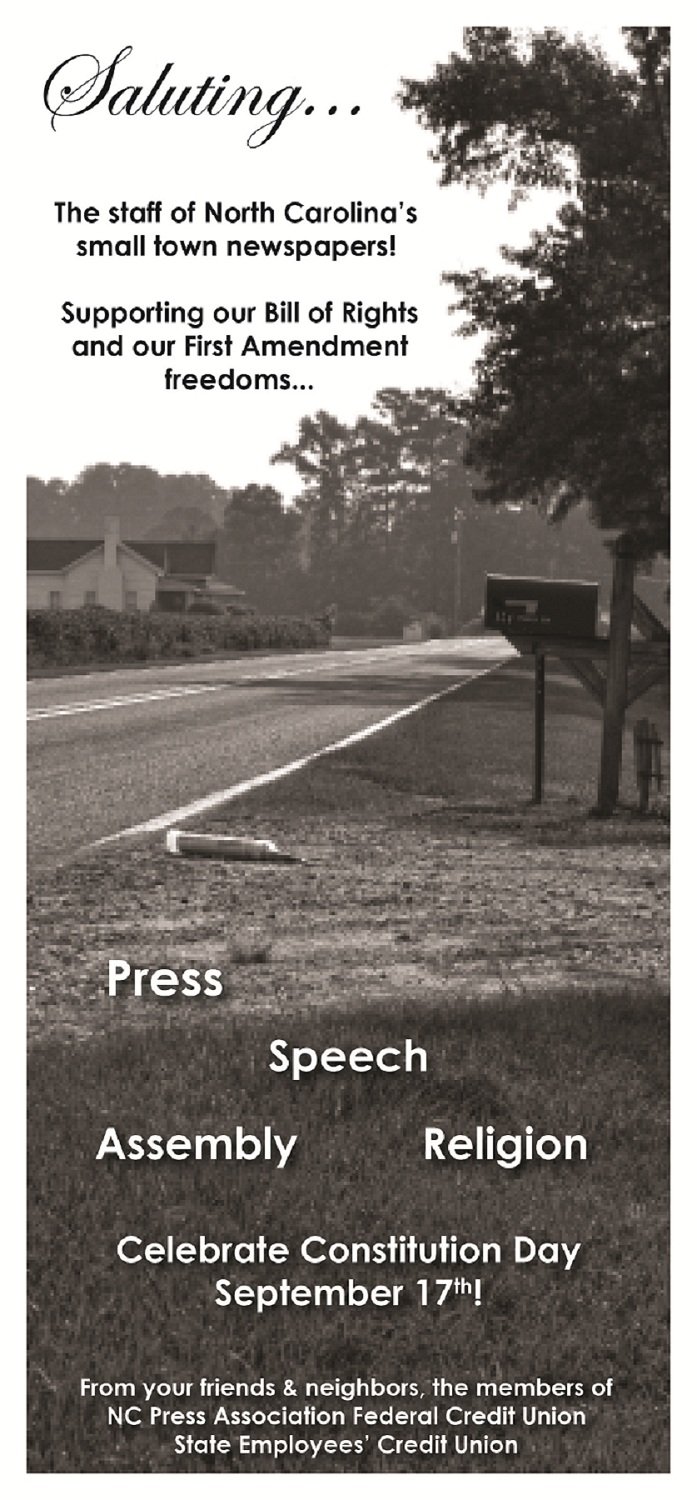 NCPAFCU and SECU salute North Carolina newspaper staff!
RALEIGH, NC (September 18, 2013) — North Carolina Press Association Federal Credit Union and State Employees' Credit Union (SECU) partnered for a special advertisement to salute the staff of North Carolina newspapers and honor the Bill of Rights and First Amendment freedoms of the United States Constitution.  The ad circulated throughout the week in all community newspapers within North Carolina.
Based solely in North Carolina, the two credit unions do not typically utilize traditional advertising.  However, they often issue local press releases regarding credit union initiatives and partnerships, as well as projects related to the member-funded SECU Foundation, including scholarships provided to all NC traditional public high schools and community colleges.
SECU's Senior Vice President of Member Communications Sandra Jones states, "The local newspapers have been very kind in highlighting the credit unions and SECU Foundation projects, helping us reach out to our friends and neighbors throughout North Carolina communities.  The unique advertisement provided an opportunity for us to thank them for what they do, while also honoring our Constitutional freedoms."
About SECU
A not-for-profit financial cooperative owned by its members, SECU has been providing employees of the State of North Carolina and their families with consumer financial services for over 75 years.  With 1.8 million members, SECU provides services through 250 branch offices, 1,100 ATMs, 24/7 Contact Centers and a website, www.ncsecu.org.
About NCPAFCU
NCPAFCU is a not-for-profit financial cooperative serving employees of North Carolina newspapers that belong to the North Carolina Press Association.  NCPAFCU members are served through State Employees' Credit Union's 250 branch offices, 1,100 ATMs, 24/7 Contact Centers, as well as a dedicated website, www.ncpafcu.org.
---