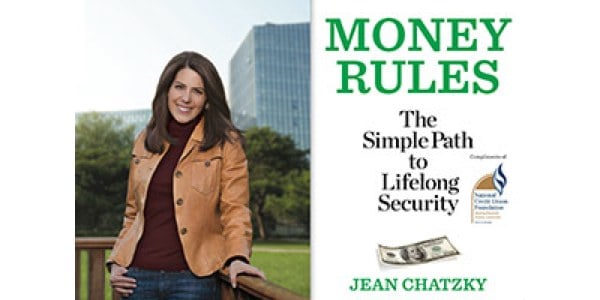 NCUF makes more "Money Rules" books available
Over 100,000 Financial Literacy Guidebooks by Bestselling Author & Finance Expert Jean Chatzky Already Distributed by NCUF

MADISON, WI (June 18, 2014) — Copies of the book "Money Rules: The Simple Path to Lifelong Security" by bestselling personal finance author Jean Chatzky are available again from the National Credit Union Foundation (NCUF). Last year, over 100,000 copies of the book were distributed to credit union members and employees through this special initiative from NCUF.
"Money Rules" by bestselling personal finance author Jean Chatzky contains a set of smart, actionable, engaging rules that, if followed, will allow readers to enjoy a lifetime of financial security and eliminate their stress about money.
NCUF had discontinued distribution of 'Money Rules' earlier this year, but due to a growing demand of the books from credit union organizations, NCUF has made more "Money Rules" books available so credit union organizations can receive it for a substantially reduced rate (via a donation to NCUF).
"There are credit unions clamoring for more copies of these useful handbooks to distribute in a myriad of ways to make a positive impact in their communities," said Christopher Morris, NCUF Director of Communications. "For example, we've seen credit unions and leagues give 'Money Rules' to attendees at financial education events, distribute it to staff members, and donate them to area schools. We're pleased to make the books available again to help credit unions improve people's financial lives."
Other credit unions have reported distributing the "Money Rules" books at community events, offering it to new members as part of their on-boarding program, and giving copies as thank you gifts to members and volunteers.
When an organization requests 1,000 or more copies of the book, the donor organization's name will be included on a sticker on the front cover. Each book already comes with "Compliments of: NCUF" printed on the cover. All of the books from NCUF are sent to credit union organizations on a non-returnable basis, for promotional purposes only and not for resale.
For more information on getting copies of "Money Rules," click here or visit ncuf.coop>Foundation Programs>Money Rules Book.
Click here for a preview of the book on Google. Click here to see Chatzky discuss the book with Matt Lauer on the Today show.
An award-winning journalist and best-selling author, Jean Chatzky is the financial editor for NBC's Today, the host of Money Matters with Jean Chatzky on RLTV, and Director of Education for SavvyMoney.
About "Money Rules":
A powerfully simple, must-have manifesto on money with more than 90 wealth-building rules from the Today show's finance guru. The bottom line: Money is simple—people make it complicated. Now, bestselling personal finance author Jean Chatzky has distilled this simplicity into a smart, immediate, and entertaining set of rules that will change readers' financial lives. Written in her trademark warm, witty voice, and with a special Dos and Don'ts section, this is the book everyone must read. Chatzky removes the stress associated with all things money and says it clearly: Readers who follow these basic yet crucial approaches to spending, saving, investing, increasing their income, and most importantly, protecting what they have, will build the wealth and financial stability they've been dreaming of.
About the National Credit Union Foundation (ncuf.coop):
The National Credit Union Foundation (NCUF) is the charitable arm of the US credit union movement and works as a catalyst to improve people's financial lives through credit unions. Through NCUF grants and programs, credit unions provide widespread financial education, create greater access to affordable financial services, and empower more consumers to save, build assets, and own homes. Donations to the Foundation enable credit unions to help their members reach life-changing goals and achieve financial freedom.
---