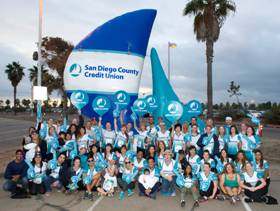 Nearly $6,000 raised for Rady Children's Hospital as part of San Diego County Credit Union in-branch fundraiser
SDCCU supports two special events benefiting Rady Children's Hospital-San Diego
SAN DIEGO, CA, (November 13, 2014) — San Diego County Credit Union® (SDCCU®), San Diego's largest locally-owned financial institution, recently supported Rady Children's Hospital-San Diego, the only pediatric hospital in the County, as a sponsor of two special events that benefited the hospital.
SDCCU's support included a special campaign at every SDCCU branch throughout Southern California. SDCCU collected $5,981 in donations for the hospital by selling paper balloons at every SDCCU branch for six weeks leading up to the Rady Children's Hospital Walk, a fundraising walk benefiting the hospital that was held at SeaWorld® San Diego on Sunday, Oct. 26. SDCCU has supported this event since its inception in 2007.
More than 3,500 participants attended this year's Rady Children's Hospital Walk, including about 90 Team SDCCU members. Since the inaugural walk eight years ago, more than $1.5 million has been raised for Rady Children's Hospital. This year's walk featured a one- or three-mile course that began at the Rosie Marie Starns South Shores Park on Mission Bay. The route included a portion of the SeaWorld San Diego aquatic theme park.
In addition to the Rady Children's Hospital Walk, SDCCU was proud to serve as title sponsor of the 25th annual Kids' NewsDay, a fundraiser that featured volunteers selling special editions of the U-T San Diego newspaper with the proceeds benefiting the hospital. This year's Kids' NewsDay, held on Tuesday, Oct. 21, drew thousands of volunteers, including school children, firefighters and many local celebrities from professional sports and the news media. Wearing bright yellow aprons, the volunteers appeared at more than 300 locations. They collected donations and sold more than 48,000 special editions of the U-T San Diego. The special edition papers were also sold at SDCCU branch locations throughout San Diego County. Stories in the newspaper on that day highlighted the advances being made and patient lives being changed at Rady Children's. More than $107,000 was raised as a result of Kids' NewsDay, hospital officials said.
"We are proud to have had the opportunity to support Rady Children's Hospital, San Diego's only hospital dedicated solely to pediatric care," said SDCCU President and CEO Teresa Halleck. "We were especially proud of our Team SDCCU members and customers who supported these two special events. Together, we can make a real difference in the life of a critically ill child whom we may never meet but whose lives have been saved through our support of the hospital."
For more information on SDCCU's support for Rady Children's, visit sdccu.com/rady.
Rady Children's Hospital-San Diego is a 520-bed pediatric care facility providing the largest source of comprehensive pediatric medical services in San Diego, Southern Riverside and Imperial counties. Rady Children's is the only hospital in the San Diego area dedicated exclusively to pediatric healthcare and is the region's only designated pediatric trauma center. In June 2014, U.S. News & World Report ranked Rady Children's among the best children's hospitals in the nation in all ten pediatric specialties the magazine surveyed.  For more information, visit www.rchsd.org.
San Diego County Credit Union is San Diego's largest locally-owned financial institution serving San Diego, Riverside and Orange counties. SDCCU has assets of $6.6 billion, over 274,000 customers, more than 30 convenient branch locations and 30,000 surcharge-FREE ATMs. SDCCU provides breakthrough banking products that meet the demands of today's lifestyle and delivers banking services that save customers money. SDCCU is leading the way, offering FREE Checking with eStatements, SDCCU Mobile Deposit, mortgage loans, auto loans, Visa® credit cards and business banking services. Federally insured by NCUA. Equal Housing Opportunity. Equal Opportunity Employer. For more information, visit www.sdccu.com.
---