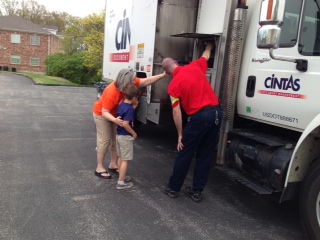 Neighbors Credit Union aids community with Shred Day
ST. LOUIS, MO (April 26, 2014) — Neighbors Credit Union hosted their 9th annual Shred Day. Neighbors Credit Union teamed up with Cintas, a document shredding company, to provide the community with the opportunity to shred documents containing personal information.  The credit union served over 115 members and area residents within a three-hour period.
"Shred day was very successful this year.  The day was beautiful and, while there was a line for more than two hours, everyone enjoyed the sunshine and great weather," stated Denise Brady, Neighbors Credit Union Vice President of Retail Sales and Service. "Many members know that we hold the event in the spring so they save their confidential information and bring it to us once a year for proper destruction.  At Neighbors, we are serious about protecting personal and confidential information and we encourage our members to do the same.  This event allows members and residents to destroy critical information in the safest way possible."
Neighbors Credit Union is dedicated to educating the community about the importance of protecting against identity theft. For more information on identity theft, visit the Security Center at NeighborsCU.org. There, you will find common scam information, tips for protecting your identity and guidelines for managing identity theft once it occurs.
Neighbors Credit Union, established in 1928, is a not-for-profit, full service financial cooperative owned and controlled by its members. Neighbors Credit Union is one of the strongest financial institutions in Missouri and is open to the communities of St. Louis City (MO), St. Louis County (MO), St. Charles County (MO), Jefferson County (MO), St. Clair County (IL), Madison County (IL) and Monroe County (IL). At Neighbors, we have a simple purpose: to make the financial lives of our members easier and less expensive.  Neighbors, where the grass is greener.
Photo 1: Individuals bringing their personal documents to be shredded by Cintas.
---