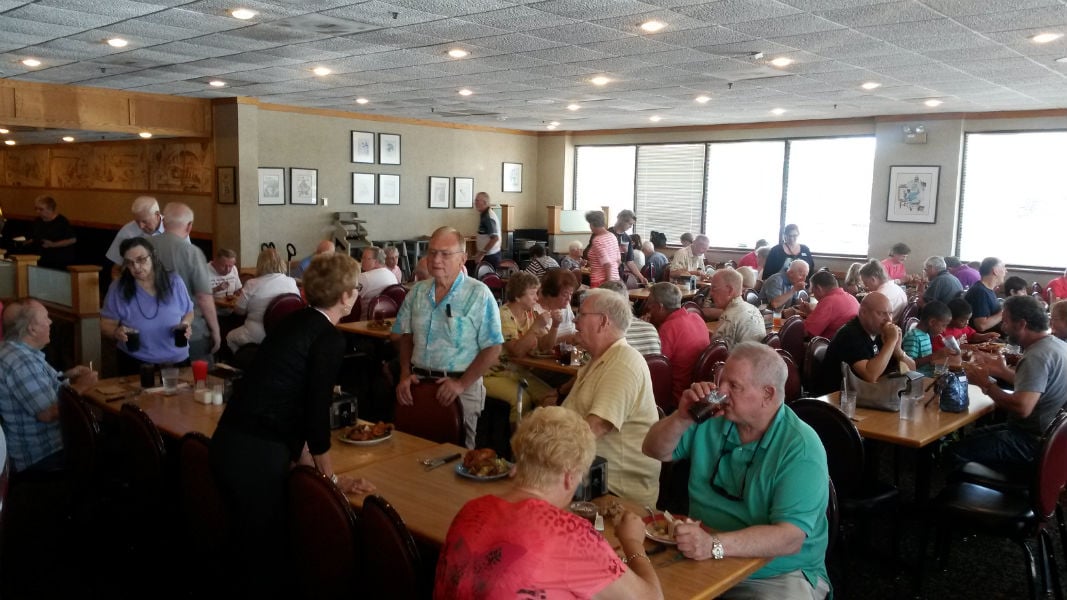 Neighbors Credit Union hosted a free lunch
ST. LOUIS, MO (July 7, 2014) — On Wednesday, June 25, 2014 Neighbors Credit Union hosted their 7th annual Main Street Luncheon at the Hometown Buffet in South County.  Becky Buehl, Vice President of Marketing at Neighbors Credit Union stated, "It was great to see so many of our Main Street members come out and have a fun day with us.  Everyone, including staff, had a great time!"
This year over 160 members and guests attended this annual summer event where members enjoyed a free meal and each other's company.
Being a part of the Main Street club benefits members in many ways, including a 0.10% bonus rate on standard CDs, discounts on auto and home equity loans, a yearly free box of checks, the yearly IRA fee waived, discounted Visa® gift cards, free cashier's checks, a chance to win a trip valued at $2,500 and invitations to special club events – like the Main Street Luncheon.
To see if you quality for inclusion in the Main Street Club visit www.NeighborsCU.org or call Jennifer Waggoner at 314-892-5400 ext. 12024 today!
Neighbors Credit Union, established in 1928, is a not-for-profit, full service financial cooperative owned and controlled by its members. Neighbors Credit Union is one of the strongest financial institutions in Missouri and is open to the communities of St. Louis City (MO), St. Louis County (MO), St. Charles County (MO), Jefferson County (MO), St. Clair County (IL), Madison County (IL) and Monroe County (IL). Neighbors Credit Union, where the grass is greener.
Photo 1:
The Main Street members enjoying their free lunch at the Main Street Luncheon at the Home Town Buffet.
---