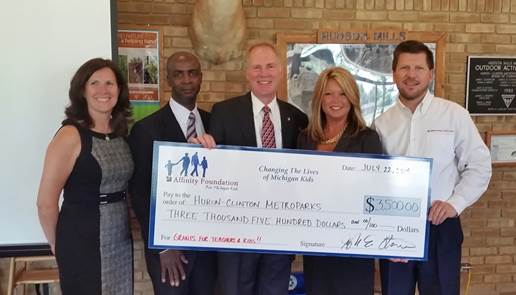 New partnership will bring more kids to the Huron-Clinton Metroparks and bring the Metroparks to more kids
PONTIAC, MI (June 22, 2014) — Affinity Group Credit Union and the Huron-Clinton Metroparks announce a new partnership! Through the Affinity Foundation for MI Kids, the credit union is making available $3,500 in grants to the Metroparks. These grants will provide opportunities for local schools to visit the Metroparks Interpretive Centers and bring the Metroparks to their schools through the Mobile Learning Center.
"This gift from Affinity Group Credit Union will help in part to provide transportation for disadvantaged school-aged children to our Metroparks.  This will allow the kids to experience our nature centers and wonderful natural science programs that we offer," said John McCulloch Director of the Metroparks. "The $3,500 will pay for 10 school bus trips and 20 visits from our Mobile Learning Center connecting more than 800 children to our programs. It's a fantastic new partnership and the gift is greatly appreciated."
The Affinity Foundation for Michigan Kids was created in 2010 to provide educational and personal growth opportunities to Michigan kids. AFMK rallies member and community support by collecting financial donations and school supplies at all six Southeast Michigan AGCU branches.
"Thanks to the efforts and donations of our employees and members; we are able to help provide opportunities like the Metroparks Interpretive Learning Programs to more kids in Southeast MI," said Matt Jenkins, VP of Marketing & Cooperative Services for AGCU. "Truly this partnership will bring more kids to the Metroparks and bring the Metroparks to more kids…we could not be more excited!"
About Huron-Clinton Metroparks
Located along the Huron and Clinton rivers, the Huron-Clinton Metroparks provide a natural oasis from urban and suburban life as well as year-round recreational activities and events. A regional park system, the Metroparks consist of 13 beautiful parks covering 25,000 acres, ten spectacular public golf courses and two marinas on Lake Erie and Lake St. Clair. The parks also offer scenic nature trails, breathtaking beaches, educational activities and exciting winter sports.
For persons with special accessibility needs or who have limited English proficiency, please contact the park facility of your choice at least 72 hours in advance of your visit. A Metroparks vehicle entry permit is required to enter any Metropark and is only $30 annually for regular admission, $20 for seniors (62 and up), or $7 daily. General information can be found at www.metroparks.com or by calling 1-800-47-PARKS.
 About Affinity Group Credit Union
Affinity Group Credit Union is a member owned, not-for-profit financial cooperative serving our members who live, work, worship, attend school, or own a business in Wayne, Oakland, Macomb, Monroe and Livingston Counties. AGCU is committed to providing quality financial services at a competitive price delivered in a professional and efficient manner, never forgetting to serve our member/owners. For additional information on Affinity Group Credit Union visit:www.myagcu.org.
---