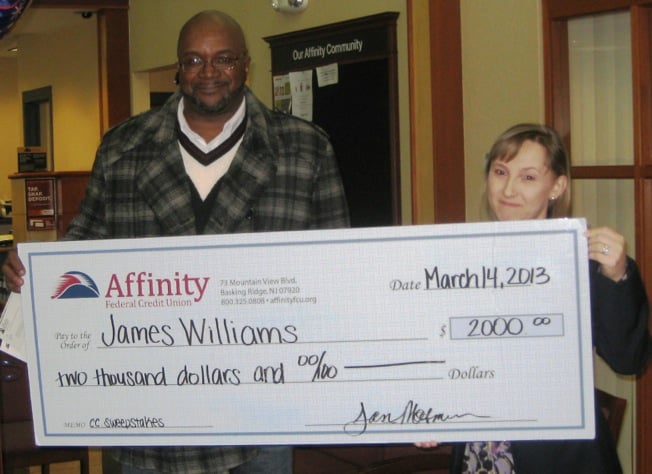 Newark Resident James Williams Wins $2,000 From Affinity Federal Credit Union Something Better Sweepstakes
PISCATAWAY, NJ (March 28, 2013) – Newark resident James Williams was thrilled to receive a check for $2,000 from Affinity Federal Credit Union just for using his Affinity Visa®   credit card!
As an Affinity member, Williams was entered into the sweepstakes each time he used his Affinity Visa® credit card to make a purchase.  There were 849,008 entries, but just five lucky winners.
"Once he realized who I was, he said 'WAIT… HOLD ON… I need you to tell my girl.'  He was so excited!" said Piscataway Branch Manager Amanda Girardi.
Williams, who has been an Affinity member for some time said, "I couldn't wait to tell my girlfriend because she's a member too! My Affinity Visa is the only credit card I use."
Williams plans to use the money to pay bills.
Affinity hosted the sweepstakes to provide members with a 'better' sweepstakes, where their own members would win. "We participate in Visa's national sweepstakes, but with millions of other cardholders also participating, our members are not as likely to win.  We wanted to improve the odds for our members this time. That's what we mean by 'better,' noted Betsy Lentz, assistant vice president, marketing.
About Affinity Federal Credit Union
Affinity Federal Credit Union, New Jersey's largest credit union, is a member-owned, not-for-profit, full-service financial institution with 15 branches throughout New Jersey with more than 133,000 members from more than 2,000 businesses and organizations and total assets in excess of $2 billion.  Headquartered in Basking Ridge, Affinity Federal Credit Union has been offering superior financial services with a member-oriented focus since 1935. For more information, visit www.affinityfcu.org.
---