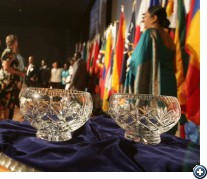 Nominations Open for Distinguished Service Award, CU Industry's Top Honor
Award to be presented at 2013 World Credit Union Conference in Ottawa, Canada
MADISON, WI — World Council of Credit Unions is calling for 2013 Distinguished Service Award (DSA) nominations, to be presented at the World Credit Union Conference, July 14–17, 2013, in Ottawa, Canada. The DSA honors individuals and organizations that have provided outstanding service to the global credit union movement. It is the international credit union system's highest honor.
"The Distinguished Service Award recognizes those who have dedicated their time, resources and attention to improving credit unions on an international scale," said Brian Branch, World Council president and CEO. "Their important work has positively impacted many members and families throughout the world who otherwise may not have had the life-changing opportunities their credit unions were able to provide."
Individuals and organizations that have furthered World Council's vision of "building a global community" through their activities and achievements are eligible for nomination. Individual recipients may be World Council member organization officers, directors or representatives; international credit union pioneers; field technicians; or individuals whose actions have benefitted global credit union development. Institutional recipients may be organizations or agencies that have provided financial or technical assistance to develop international credit union movements and their service infrastructures over an extended period of time.
The DSA is not an annual award, rather it is presented based on the proven achievements and worthiness of candidates according to the award committee's review. World Council presents up to one institutional and three individual awards in a single year. At the 2012 World Credit Union Conference in Gdańsk, Poland, World Council awarded the DSA to Barry Jolette, president and CEO of San Mateo Credit Union (Calif., USA) and former World Council chair.
Nominations must be made by a World Council member organization and are due no later than Monday, March 11, 2013. Download a nomination form and see a list of past winners at www.woccu.org/dsa.
World Council of Credit Unions is the global trade association and development agency for credit unions. World Council promotes the sustainable development of credit unions and other financial cooperatives around the world to empower people through access to high quality and affordable financial services. World Council advocates on behalf of the global credit union system before international organizations and works with national governments to improve legislation and regulation. Its technical assistance programs introduce new tools and technologies to strengthen credit unions' financial performance and increase their outreach.
World Council has implemented more than 290 technical assistance programs in 71 countries. Worldwide, 51,000 credit unions in 100 countries serve 196 million people. Learn more about World Council's impact around the world at www.woccu.org.
---