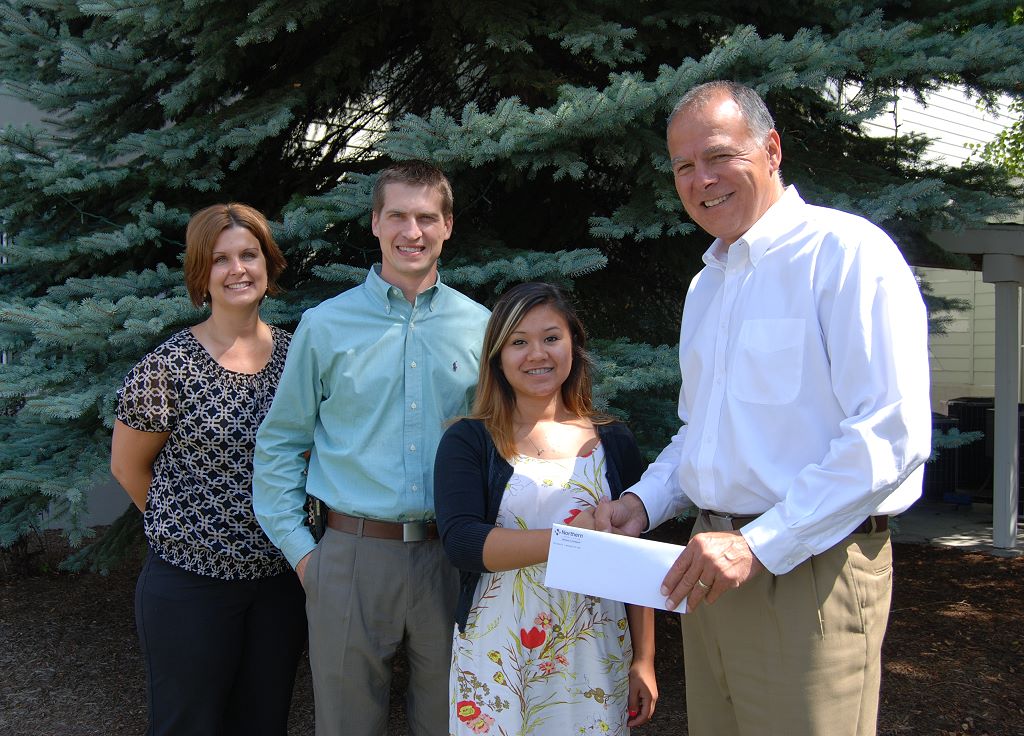 Northern Credit Union Remembers Valued Employee With Scholarship
Third Annual Michelle Salisbury Golf Tournament Raises Funds for Students
WATERTOWN, NY (September 6, 2013) — Northern Credit Union announced that Heather Montgomery, a senior at Belleville-Henderson Central School, is the 2013 recipient of the Michelle Salisbury Scholarship. Salisbury was on the Credit Union's staff when she was killed in a car accident in the fall of 2009. To honor her memory, her co-workers established a scholarship in her name, which helps area students pay for college. On Saturday, Sept. 7, Northern is hosting the Third Annual Michelle Salisbury Golf Tournament at the WIllowbrook Golf Club in Watertown as a fundraiser to support the scholarship.
"Michelle was very much appreciated as a member of our staff," said Dan St. Hilaire, President/CEO of Northern Credit Union. "Her life ended too soon and we deeply miss her, but we are pleased her Northern family can celebrate her love of learning and kind spirit by helping other young people fulfill their dreams."
Montgomery, a resident of Adams, N.Y., plans to attend Jefferson Community College in Watertown this fall to study business. The scholarship will provide her $1,000/year toward college, for up to four years.
Recipients of the Michelle Salisbury scholarship must be enrolled in a two- or four-year college, carry a GPA of at least 80 percent, exhibit a willingness to help others and be a graduate of Belleville-Henderson Central School – the school from which Salisbury graduated in 2006. Previous recipients are Bonnie Grandjean in 2011 and Taylor Stockwell in 2012.
The annual golf tournament is "Captain and Crew" style with golfers winning prizes for team performance, as well as through raffles and door prizes. Planners expect to raise more than $30,000 with participation from members, vendors and staff, along with more than 65 sponsorships. The cost is $65/ player or $260 per foursome.
In addition to the golf tournament, Northern employees support the scholarship with their "Casual for a Cause" program, which allows staff to pay $6 the first Friday of the month to wear jeans. Half the money raised goes toward the scholarship, with the other half going to a charity chosen by the hosting branch. September's cause of the month is the Sci-Tech Center of Watertown.
For more information about the Michelle Salisbury Golf Tournament, visit www.mynorthern.com.

About Northern Credit Union
Northern Credit Union is a growing, federally insured financial institution and a leading provider of a full range of financial services to anyone who lives, works, worships or regularly conducts business in Jefferson, Lewis and Southern St. Lawrence counties. Northern CU serves the financial needs of more than 24,000 members through world-class technology systems, and through a convenient network of 6 branch locations, a virtual branch location and over 28,000 surcharge free ATMs. Founded over 55 years ago Northern CU continues to operate as a not-for-profit, member-owned financial cooperative with locations in the Watertown, Adams, Gouverneur, Lowville and West Carthage areas. Visit Northern CU at www.mynorthern.com or call 866-310-6328 to learn more.
---