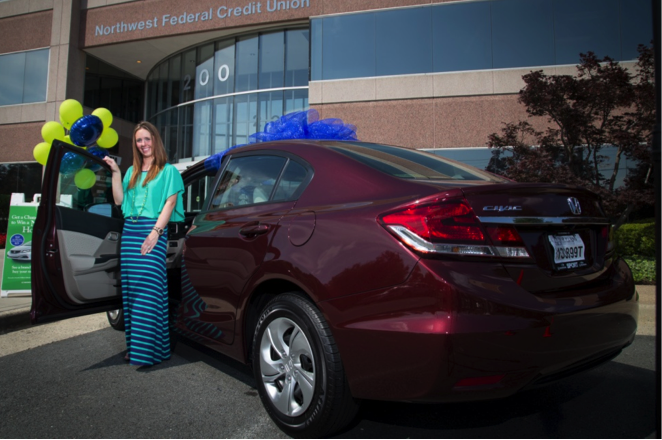 Northwest Federal Credit Union and Foundation raise more than $15K for CMN and Scholarship with car raffle
HERNDON, VA (July 8, 2014) — Northwest Federal Credit Union and its charitable arm, NWFCU Foundation, raised $15,615 to support the Children's Miracle Network program and its Ben DeFelice Scholarship program. The funds were the proceeds from ticket sales in the "Help Us Help Our Kids Car Raffle."
Carrie M., of Haymarket, Va., held the winning ticket and is the new owner of a 2014 Honda Civic. Raffle tickets sold for $10 each, or 3 for $25, and 3,610 tickets were sold, with net proceeds amounting to $15,615.
"We far exceeded our goal for the event, which was to raise $10,000," said Linda Rogus, Executive Director of NWFCU Foundation. "This success will help us continue to strengthen our community through scholarship programs, as well as our other outreach efforts."
Sport Honda, a dealership in Silver Spring, Md., partnered with Northwest Federal to provide the prize vehicle at a discounted price. "Helping college students with education expenses and providing medical care for sick children are such worthwhile causes," said Robert Fogarty Jr. General Manager of Sport Honda. "We are happy to be able to participate in such a meaningful event."
The Ben DeFelice Scholarship was established in 2005 to pay tribute to its namesake, Northwest Federal's longest-running Chairman of the Board who was instrumental in the growth and success of the Credit Union. The NWFCU Foundation awards the Ben DeFelice Scholarship to credit union members who are attending graduate, undergraduate or associate degree programs and who exhibit leadership, dedication and commitment in school, at home and in the community. Since 2005, the NWFCU Foundation has awarded 146 scholarships totaling $654,000.
Children's Miracle Network supports medical research and the treatment of young patients receiving care at CMN hospitals, including the Children's National Medical Center in Washington, D.C.
For more information, call (703) 925-5092 or visit www.nwfcufoundation.org.
---