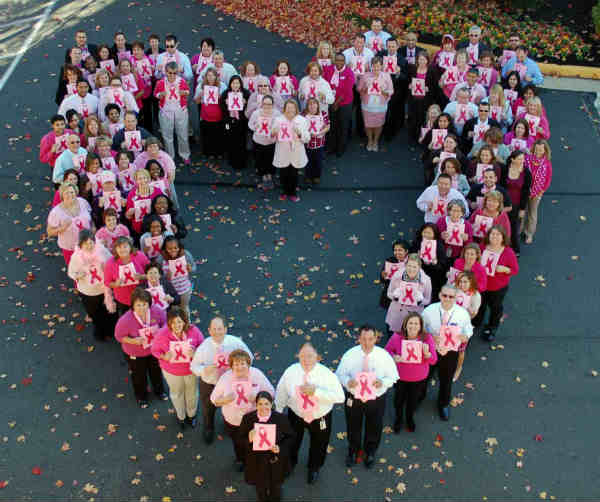 Northwest Federal Credit Union and its Foundation go pink to support those touched by breast cancer
HERNDON, VA (October 30, 2013) — Oct. 25 marked a "heartfelt hope for a cure" day at Northwest Federal Credit Union and its charitable arm, Northwest Federal Credit Union Foundation.
To rally support for board members, fellow employees, members and others who have been affected by breast cancer, the staffs at the two groups dressed in pink for the day and celebrated the occasion with a group photo. Employees gathered in a heart-shape formation and posed for pictures to show their "heartfelt hope for a cure."
"Several members of the NWFCU family are breast cancer survivors, and they have been deeply touched by the encouragement from their coworkers," said Linda Rogus, NWFCU Foundation Executive Director. "This event is a visible way to show our continued care and support."
This is the sixth year the groups have joined forces to promote Breast Cancer Awareness Month, which started with an employee suggestion to participate in the national program. And efforts like these seem to be working: According to the American Cancer Society, breast cancer diagnoses have declined since 2000, due in large part to better education and prevention practices. With improved treatment and earlier-detection options, death rates are also declining. Today, there are an estimated 2.8 million breast cancer survivors living in the United States.
"This is a worthy – and personal – cause to the Northwest family," said Chris McDonald, Northwest Federal Credit Union President. "Wearing pink shows our co-workers, members and the community at-large that we recognize the important need for ongoing research, education, screening and treatment programs to help fight this disease."
The Credit Union welcomed special guest Gigi Hyland, Executive Director of the National Credit Union Foundation, who is positioned in the photo at the bottom tip of the heart. "I'm happy I was able to be here today to be a part of this wonderful heart and to help Northwest Federal join the efforts to raise breast cancer awareness nationwide," she said.
About Northwest Federal Credit Union Foundation
The Foundation was established in 2004 to promote and manage Northwest Federal Credit Union's philanthropic activities including scholarship, financial education and other charitable programs, which reflect the interests of its membership and the communities it serves. The Foundation is a 501(c)(3) organization. Donations are tax deductible to the extent permissible by law for those who itemize deductions. For more information, visit www.nwfcufoundation.org.
About Northwest Federal Credit Union
Northwest Federal Credit Union is a full-service financial institution ranking among the largest credit unions in Virginia and in the top 50 credit unions in the nation. Established in 1947 and headquartered in Herndon, Va., Northwest Federal is dedicated to providing financial services and education to its members and the community. The Credit Union currently serves more than 125,000 members and has assets in excess of $2.5 billion. For more information, visit www.nwfcu.org.
---