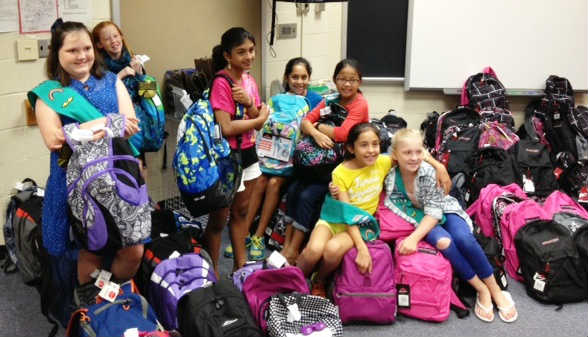 Northwest Federal Credit Union Foundation Partners with Local Girl Scout Troop, Provides School Supplies to Kids in Need
HERNDON, VA (September 6, 2013) — Recognizing the importance of starting off the school year prepared to learn, local Girl Scout Troop 3419 recently partnered with Northwest Federal Credit Union Foundation (NWFCU Foundation) to provide backpacks and school supplies to Dranesville Elementary School students.
Looking for ways to earn their Bronze Award, Troop 3419, consisting of Crossfield Elementary School students, decided to provide backpacks to peers who might not have the necessary supplies to start the school year. Under the guidance of Troop Leader Karen, the girls sold Girl Scout cookies and held a yard sale, lemonade stand and bake sale. Their efforts raised $600 toward the purchase of backpacks and school supplies.
NWFCU Foundation, already collecting backpacks and money as a part of the Fairfax County Public Schools Collect for Kids initiative, was the perfect partner. The Troop visited NWFCU and helped volunteers stuff backpacks with school supplies – enough to provide every sixth-grade student in need at Dranesville Elementary School.
In addition to the Girl Scout partnership, NWFCU Foundation also worked with Northwest Federal Credit Union, which generously matched more than $1,600 in cash donations received during the backpack drive. Due to the generosity of the Credit Union, its members and its employees, NWFCU Foundation provided backpacks and supplies to 312 students in need at Dranesville Elementary.  An additional 114 backpacks were donated to students in need from Prince William and Loudoun Counties, as well.
"It's vitally important that students start the school year off on the right foot and are prepared to learn" said Linda Rogus, Executive Director of NWFCU Foundation. "This partnership with Troop 3419 is a meaningful way for us to expand our giving in the local community. Troop 3419's commitment to helping others is a great example of kids helping kids!"
About Northwest Federal Credit Union Foundation
The Foundation was established in 2004 to promote and manage Northwest Federal Credit Union's philanthropic activities including scholarship, financial education and other charitable programs, which reflect the interests of its membership and the communities it serves. The Foundation is a 501(c)(3) organization. Donations are tax deductible to the extent permissible by law for those who itemize deductions. For more information, visit www.nwfcufoundation.org.
About Northwest Federal Credit Union
Northwest Federal Credit Union is a full-service financial institution ranking among the largest credit unions in Virginia and in the top 50 credit unions in the nation. Established in 1947 and headquartered in Herndon, Va., Northwest Federal is dedicated to providing financial services and education to its members and the community. The Credit Union currently serves more than 125,000 members and has assets in excess of $2.5 billion. For more information, visit www.nwfcu.org.
---