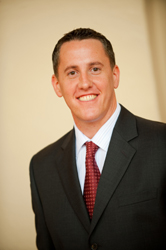 O'Hara Named VP-Strategic Alliances
Will Serve All Groovecar Entities
HAUPPAUGE, NY (April 17, 2013) – GrooveCar, Inc. (www.groovecar.com), one of the nation's largest automotive resource and buying support programs for credit unions, today named Robert J. O'Hara as vice president, strategic alliances.
This is a newly-created position.
O'Hara, 38, will be responsible for all GrooveCar entities – GrooveCar, CU Xpress Lease and cuautocoupon – as they all expand their national footprint.  In addition, he continues as president of cuautocoupon (www.cuautocoupon.com), a post he took two years ago. Cuautocoupon was formed to help drive more auto loan business to credit unions, while offering CU members significant discounts when purchasing a new or pre-owned vehicle using their unique reverse marketing approach.
Before joining GrooveCar, New York native O'Hara spent over a decade as a senior executive at Sperry Associates Federal Credit Union (FCU) in Garden City Park, NY, where he succeeded in fostering new relationships and partnerships with third parties to drive new business.
"Rob brings an intrinsic understanding of the credit union world and culture that very few others can," emphasized GrooveCar founder and President David Jacobson.  "What's more, his understanding of our growing product mix and how it evokes synergy with credit unions will help give us a leg up as we expand nationwide."
In the short span that O'Hara has headed cuautocoupon, it has become one of the nation's leading discount auto coupon providers.  He was successful in growing business in major US markets, including New York, California and Florida and is making inroads in the country's heartland.
About GrooveCar, Inc.
Founded in October 2000, the privately held GrooveCar provides a comprehensive array of automobile and automotive services and products – shopping, buying, leasing, financing, ownership – for credit unions and credit union members, as well as access to motorcycles, recreational vehicles and boats.  Additional information may be found at www.groovecar.com.
---