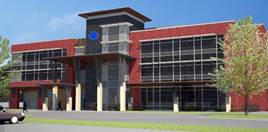 Oregon State Credit Union and Momentum partner together for new operations center
CORVALLIS, OR (April 23, 2015) — Momentum, a national plan-design-build firm, and Oregon State Credit Union have announced their partnership to develop a new Operations Center in Corvallis, Oregon. The facility is scheduled for completion in June 2016. 
The significant investment in infrastructure and technology will result in a workplace environment that promotes collaboration, improves communication among staff, fosters enhanced workplace effectiveness, and facilitates higher levels of member service.
President and Chief Executive Officer Richard Hein said, "Our 2008 purchase of the property anticipated our projected and now realized growth, and reflected our continuing long-term commitment to our Corvallis-based roots. It was followed soon after by one of the worst recessions since the great depression. Since then, Oregon State Credit Union leadership, in collaboration with our board of directors, continued to research how and when this project would best benefit the membership, and improve the effectiveness of our team. Together, we see this as a great opportunity to advance our legacy of civic and economic strength, trust and financial security."
The Operations Center is being developed in a campus environment, making effective use of the parcel and location. An emphasis on using regional building materials, access to natural daylight and a flexible and adaptable workplace were key goals of the leadership team. In addition, the project will seek LEED® certification to further demonstrate the Credit Union's commitment to environmental responsibility and sustainability.
Momentum is overseeing the planning, design, construction management, and implementation of the project. "This program further strengthens Oregon State Credit Union's commitment to their core values of member focus, integrity, passion, education, cooperative spirit and social responsibility. We are extremely proud of our partnership with the Credit Union and of their commitment to growing their organization in a purposeful and responsible manner", said Bob Saunders LEED AP BD+C, EVP of Momentum. 
About Oregon State Credit Union
Oregon State Credit Union is a member-owned, not-for-profit financial cooperative, open to anyone who lives or works in 24 western and central Oregon counties. Additional information about 82,000-member Oregon State Credit Union is available at www.oregonstatecu.com.
About Momentum
Momentum is a plan-design-build firm specializing in buildings that strengthen communities. Our mission is to help purpose-driven organizations achieve their goals through high-performing buildings.  For more information contact Jay-E Emmingham at jay-e@momentumbuilds.com or 206-787-8085.
---