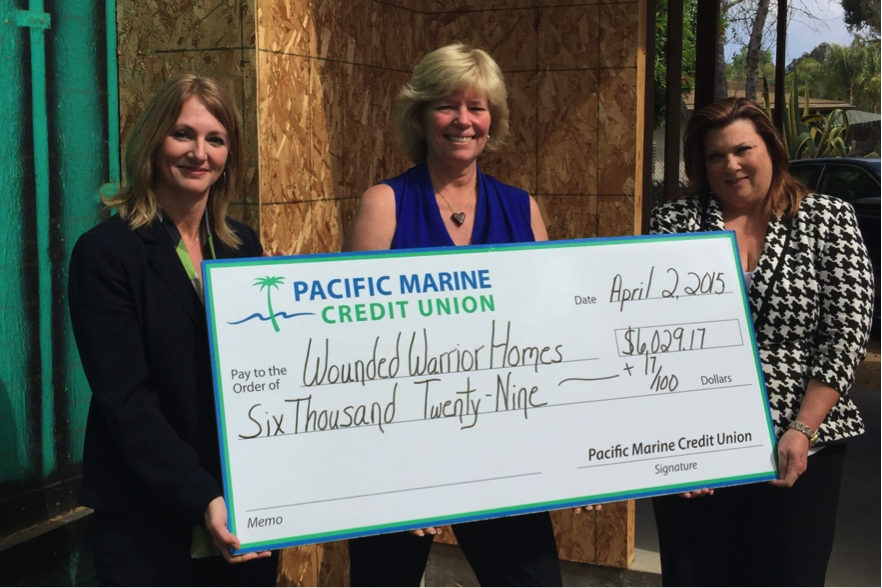 Pacific Marine Credit Union helping to build dreams for injured marines
Money to complete construction of Wounded Warrior Homes' Harvest Home
OCEANSIDE, CA (April 14, 2015) — Pacific Marine Credit Union (PMCU) proudly presented a $6,029 donation to the local Wounded Warrior Homes (WWH), an organization that provides transitional housing to service members with Traumatic Brain Injury and Post Traumatic Stress. The check presentation took place at the construction site of the new Harvest Home in Vista, CA. All monies donated will go towards the completion of Harvest Home, which will provide additional room for injured warriors.
The donation was the result of a month-long campaign that took place at each of PMCU's eleven branch locations. Employees and members participated by making monetary donations and signing donation cards that were displayed throughout each branch.
This is not the first time that PMCU has raised funds in support of the Wounded Warrior Home organization. In April 2014, a check for $8,700 was gifted on behalf of the Credit Union.
About Pacific Marine Credit Union
Pacific Marine Credit Union is a state chartered credit union with more than $696 million in assets, serving more than 78,000 members. PMCU was chartered in 1952, headquartered out of MCB Camp Pendleton, California. The Credit Union has been serving military personnel for more than 60 years, but is now open to anyone living or working in San Diego, Riverside, and San Bernardino Counties. Credit unions are not-for-profit financial cooperatives owned by their members. We invite everyone to stop by and experience the credit union philosophy of "People Helping People."
From left to right: Wendy Rodriguez, Director of Operations, Region 2; Mia Roseberry, Executive Director at Wounded Warrior Homes; and Susan Radford, Branch Manager at Fire Mountain Branch, whose branch raised the most funds.
---