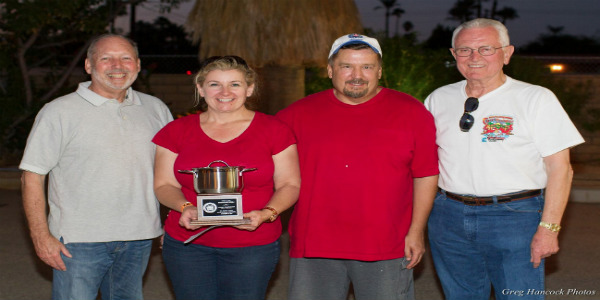 Pacific Marine staffer places 5th at world's championship homestyle chili cookoff
SAN DEIGO, CA (December 6, 2013) —  Capitalizing on winning the 1st annual XDI CU Chili Challenge in August 2013, Pacific Marine Credit Union's EDM Manager Lynette Chubb (and her husband) achieved an amazing feat at their inaugural appearance at the World's Championship Homestyle Chili Cookoff in Palm Springs, CA, last month. They placed fifth among many well-seasoned, cookoff competitors. Numerous cooks attending the International Chili Society's annual competition have been competing for numerous years and not achieving the same results the Chubbs did in their first attempt at the 47thAnnual International Chili Society (ICS) World's Championship, October 11, 2013.
Chubb admitted that her husband, a former Marine, was largely responsible for creating and cooking the winning recipe. "This competition is like Christmas morning to him," Chubb said of her husband. "He mentioned it would be great to place in the top 10 competitors at World's, but we ended up getting fifth! We were more shocked than anything – but extremely happy to bring home the good news to our credit union staff who helped us get here."
Chubb added that other competitors were coming up to she and her husband afterward, telling her that people have been competing here for 30 years or more and haven't achieved this high of an accomplishment.
"This achievement by Lynette and her husband is such a wonderful story for the cook off competition," stated ICS President Carol Hancock. "To have a 'first-time' team achieving a fifth place is what the Homestyle category is all about. There's some fantastic chili cooking talent out there and Lynette and her husband showed you don't have to be veteran competitor to win. And it all started with XDI's inaugural competition back in August. It will be fun to see what they do next year."
"For Lynette to come in here for her first time and get fifth, that just doesn't happen at the international level," stated Mike Cooper, President/CEO of XDI. "But she and her husband are an ideal example of 'people helping people' to achieve great success. We look forward to what they – and their fellow competitors – come up with in 2014. Should be exciting."
Chubb said that her husband is already working on new recipes and refining his winning batch in preparation for next year's event. Pacific Marine plans to expand its staff-wide competition in 2014, hosting its qualifying event in their parking lot. This move will attract nearby members to come taste and possibly judge their "in-house" contest to increase participation – and enhance its community exposure.
About Xpress Data, Inc.
Xpress Data, Inc. is a service company focused exclusively on the customization, production anddelivery of Credit Union Member correspondence.  Since launching our flagship XpressNotice™service in 1999, XDI has created an entire family of branded services including XpressStatement™,XpressTax™ and eXpressServices™ – a feature-rich electronic document presentment platformdesigned from the ground up by and for Credit Unions.  Composing, producing and deliveringstatements, notices, letters and tax forms for Credit Unions is not just another service provided by XDI,it's the company's core competency. For more information, visit www.xdi.com.
About The International Chili Society
Founded in 1967, the International Chili Society sanctions more than 200 chili cookoffs every year.These events are worldwide and benefit charities or nonprofits.  Over the past 46 years, the ICS hasraised more than $90 million for these organizations.  All winners of ICS sanctioned cookoffs qualify tocompete for cash prizes and awards at the World's Championship Chili Cookoff held each year inOctober.  In addition to raising money for charity, ICS strives to promote, develop, and improve thepreparation and appreciation of chili and further the camaraderie of chiliheads everywhere. For more information, visit www.chilicookoff.com.
---