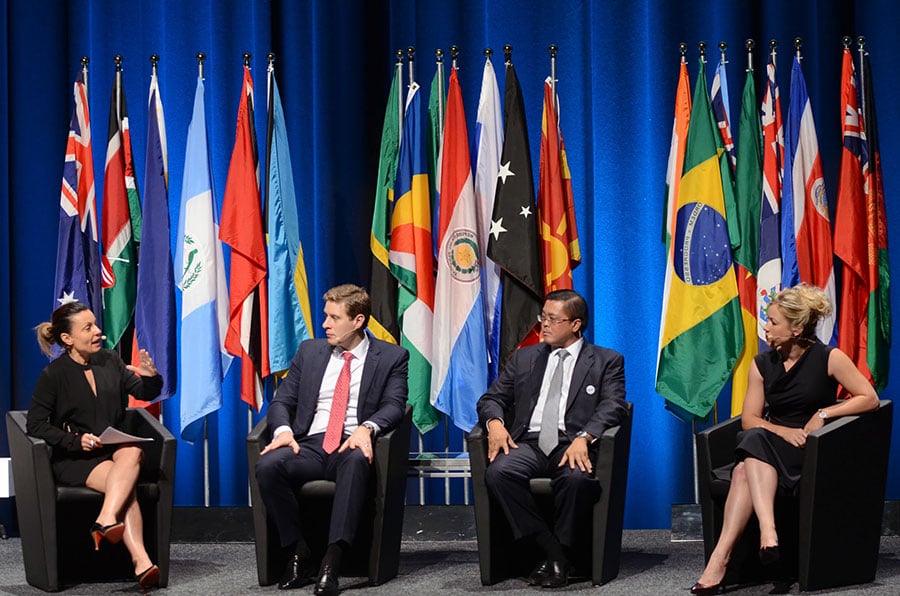 Panel: Non-traditional market entrants seen as disruptors or partners?
Outsiders share secrets for future competition, and collaboration, at World Credit Union Conference
GOLD COAST, Australia (July 30, 2104) — As non-traditional market entrants rapidly become many consumers' preferred financial service providers, credit unions must learn how to engage and adapt to stay in the race. Collaboration amongst themselves, and even competitors, may be the answer, according to a combined panel of non-traditional market entrant spokespersons that kicked off Tuesday's general session at World Council's World Credit Union Conference convening this week in Gold Coast, Australia.
Dubbed "Catching the Disruption Wave: 'Three Big Ideas' for Serving a Radically Changing Marketplace," the panel brought together three primary disruptors from Australia, Canada and the United States to give an outside perspective on credit unions' future. Panelists included Alan Shields, RFi Intelligence co-founder and managing director (Australia); Alex Sion, Moven president (USA); and Amy ter Haar, Flow, Inc. CEO (Canada). Effie Zahos, Money magazine editor (Australia), moderated the panel.
Topics focused on the keynoters' "big ideas" regarding the future of financial services as payments, finance and commerce emerge for a multi-dimensional consumer marketplace. All sides admitted that credit unions have a chance to capture and capitalize on the advantages of the disruption wave, with a need to differentiate their products and value propositions.
"This is an existential moment for credit unions…to redefine your basic product and core value proposition," said Sion, who asked the audience to reconsider his app-centric business as a potential partner, rather than a disruptor. "Credit unions must ask themselves what…family and community mean in this digital era. The future of the model is to maintain the community aspect, but disrupt the physical distribution model."
To some panelists, the best practice model could be achieved through shared platforms amongst different credit unions, and potentially nontraditional market entrants.
"We need to get connected if we want to [financially] include everyone, everywhere. It's not us versus the banks. It's lateral and peer-to-peer," ter Haar said, noting credit unions' mission to provide nondiscriminatory financial access to all. "We are stronger together."
"[To meet customer expectations,] speed, security and convenience need to be in place. We see markets get together to win the medal," Shields said. "[In the future, there will be] a shared payment service platform that all banks and customers will be keyed into that will fulfill [those expectations.]"
Disruptors' impact on small credit unions also warranted discussion from the group, as did the need for gaining members' trust to use mobile products. Credit unions are better positioned than banks to gaining members' trust because trust is inherent in the model, according to Sion.All panelists agreed that credit unions' strength lies in their localized community service and identities, but that they must make themselves relevant to a new generation of people with expanded communities made possible through technology. The physicality inherent in managing small communities is inappropriate and cost prohibitive in this era, according to Sion.
"Credit unions will have to juice up their value proposition, combine to survive, or transform how they distribute products to customers," Sion said. "It would be a sad world if credit unions don't win. We'll lose that community and authenticity."
Continued efforts to connect credit unions and national associations worldwide by World Council will be critical to the spread of ideas and collaboration to keep up with the changing market.
"Consumers want one app on their phone that helps them consolidate all their money and provides helpful information," Sion said. "It's all about aggregating up."
The day continued with breakout sessions on demystifying innovation, smart collaboration, governance best practices and outreach strategies to attracting young adult members. World Council also hosted a "Future Forum" for large credit unions from Australia, Brazil, Canada and the United States to network on solutions to common payments, mobile, economic, member engagement and innovation challenges.
The 2014 World Credit Union Conference runs through 30 July and will include a closing general session presentation by What's Mine Is Yours: The Rise of Collaborative Consumption author Rachel Botsman, World Council's annual awards ceremony and a closing night reception.
Follow and engage in conference activities, including daily event photos, on World Council's Facebook and Twitter pages at www.facebook.com/WOCCU and www.twitter.com/WOCCU using #WCUC2014.
World Council of Credit Unions is the global trade association and development agency for credit unions. World Council promotes the sustainable development of credit unions and other financial cooperatives around the world to empower people through access to high quality and affordable financial services. World Council advocates on behalf of the global credit union system before international organizations and works with national governments to improve legislation and regulation. Its technical assistance programs introduce new tools and technologies to strengthen credit unions' financial performance and increase their outreach.
World Council has implemented more than 290 technical assistance programs in 71 countries. Worldwide, 57,000 credit unions in 103 countries serve 208 million people. Learn more about World Council's impact around the world at www.woccu.org.
---