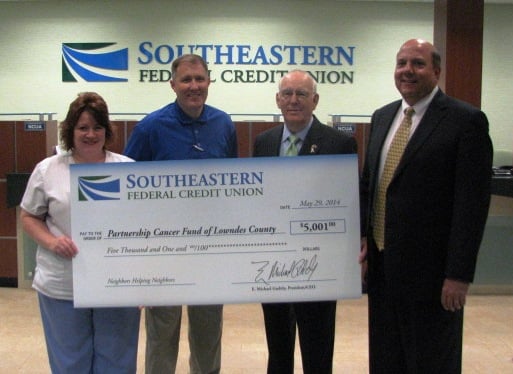 Partnership Cancer Fund receives donation
VALDOSTA, GA (July 1, 2014) — Partnership Cancer Fund, a Lowndes County Partnership of Health program, has worked since 2004 to ease the burden of medical expenses for locals undergoing cancer treatment.
The funds raised help with the transportation costs, nutritional supplements, medical equipment and medication costs. Financial awards have been given to 3,283 people totaling $388,985 in financial assistance.
On Thursday, Southeastern Federal Credit Union became a corporate sponsor for the fund with its donation of $5,001.
"This money will be used for patients in the community," says Robbin Miller, Partnership Cancer Fund fundraising chairperson. "Patients in the community can have life-sustaining medications and treatments they may not otherwise have access to."
More information on donating to the Partnership Cancer Fund can be found online at www.lcpfh.org or by contacting John Sparks, Partnership Cancer Fund executive director, (229) 245-0029 ext. 500.
Desiree CarverThe Valdosta Daily Times
---