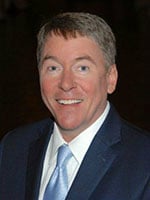 Patrick Conway named new CEO of Pennsylvania Credit Union Association
HARRISBURG, PA (September 18, 2013) — Pennsylvania Credit Union Association (PCUA) Board Chair Maria LaVelle today announced the appointment of Patrick Conway as the new President/CEO of the PCUA. Conway joins PCUA from the Pennsylvania Restaurant and Lodging Association, where he served as President/CEO for the past 12 years.  Prior to that, Conway served as President/CEO of the Harrisburg Regional Chamber and the Chamber of Business and Industry of Centre County.  Conway began his career in the district office of Congressman Bill Clinger, served as executive director of the Governor's Action Team under Governor Tom Ridge, and ran for Congress in Pennsylvania's 5th district.
"We are extremely pleased and fortunate to welcome Pat to the Pennsylvania credit union movement," said Board Chair LaVelle. "While there were many strongly qualified candidates for the position, Pat's leadership skills, association experience, and political involvement make him a great fit for moving PCUA forward."
Conway is only the Association's 5th President/CEO since its inception in 1934.  "I feel honored and privileged to be given the opportunity to lead such a strong organization as PCUA," said Conway.  "This organization has a strong tradition of advocating on behalf of Pennsylvania credit unions and for providing solutions to credit unions of all sizes.  This is an exciting time for Pennsylvania's credit union movement and an exciting time for me personally as we continue to grow and thrive in what is clearly a challenging environment."
Conway will join the Association on October 28 and will work with current PCUA CEO Jim McCormack, who is retiring at year-end on December 31, after 32 years of service.  McCormack will remain on as a consultant to PCUA through November 2014.
"Our Association is a national leader because of the strength of our board of directors, staff, and member credit unions," said McCormack.  "The Association board went through a rigorous process of vetting potential CEO candidates and in the end made a very strong choice in Pat Conway.  I look forward to working with him in the coming months."
Among Conway's many professional accomplishments, he is a graduate of Pennsylvania State University and attended the National Institute for Organization Management at the University of Delaware.  He currently sits on the board of the National Restaurant Association, is a member of the Governor's Food Safety Council, and Governor's Travel and Tourism Partnership Board.  Conway resides in Dauphin, Pennsylvania, with his wife and two children.
Credit unions are financial cooperatives that provide affordable financial services to help their owner/members.  The Harrisburg-based Pennsylvania Credit Union Association is a trade association that provides legislative, promotional, educational, and operational support for nearly 400 credit unions in Pennsylvania.  These credit unions have assets in excess of $38 billion and serve more than 3.7 million members.  For additional information about credit unions or to find a credit union near you, visit www.ibelong.org.
---