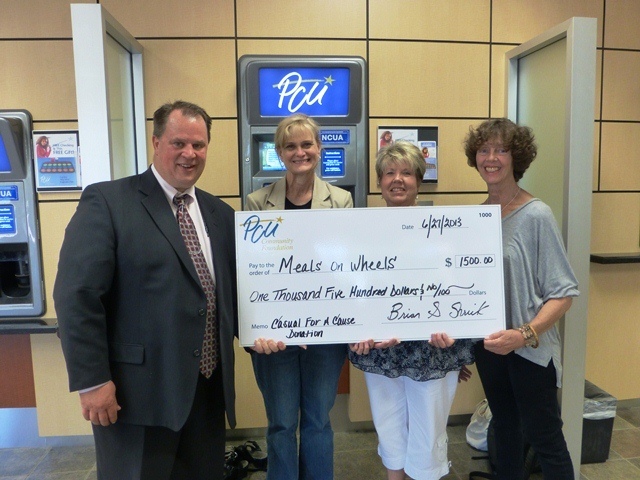 PCU Meals on Wheels Volunteers Deliver More than Food
Credit Union Marks 10 Year Commitment to Meals on Wheels (MOW) with $1,500 Donation
WOODBURY, MN (July 23, 2013) — For the past 10 years, Postal Credit Union (PCU) Meals on Wheels volunteers have delivered a nutritious meal and friendly smile to elderly and disabled recipients in the North St. Paul area.  Since their first delivery in July of 2003, PCU volunteers have never missed a regular Thursday delivery, a fact that has not gone unnoticed by Gladstone Meals on Wheels volunteer coordinator Gigi Fitzpatrick.
"As our PCU Meals on Wheels volunteers know, MOW is SO much more than food.  Our volunteers may be the only person our client sees all day, "Fitzpatrick stated.  "The number of meals delivered by PCU volunteers is nearly 5,000. The value of the PCU volunteer commitment can't be measured just by the dollar amount of the cost of keeping our clients in their homes or the number of meals delivered. Instead, they can be measured by the smiles on the faces they touch.  Those smiles can't be measured in economic terms – no one can put a dollar value on all those smiles," she added.
PCU President/CEO Brian Sherrick recently presented a check for $1,500 to the Gladstone Meals on Wheels program to help continue its good work.  "We value the great service this program provides to our community, and we are honored to do what we can to support it, both financially and through the dedication of our employees, who are the real champions of this cause."
Fitzpatrick was grateful for the credit union's support. "Congratulations and thank you to Postal Credit Union for their organizational value which says a commitment to the community is important, for the over 500 hours of PCU volunteer service and for the $1,500 donation to Gladstone Meals on Wheels," she stated.
Gladstone Meals on Wheels began in 1974 and is one of 9 programs that serve all of Ramsey County. In 2012 Gladstone delivered almost 19,000 meals to the elderly of North St. Paul, Maplewood, and the near East Side of St. Paul. Meals on Wheels helps people maintain a healthy lifestyle and remain living independently in their homes as long as possible. Volunteers deliver each hot meal at lunchtime, Monday through Friday, also providing a daily safety check and friendly interaction.
Founded in 1926, PCU is a member owned financial institution that specializes in providing excellent member service, great rates and convenience. PCU offers a complete range of services, including 24/7 loan approval, mortgages, online banking, online deposits, mobile banking, free checking, business services, investment services and more. PCU is proud to serve Anoka, Chisago, Dakota, Hennepin, Ramsey and Washington counties, with office locations in Eagan, Hugo, North St. Paul, West St. Paul and Woodbury. For more information, call 651-770-7000, 800-247-0857 or visit www.postalcu.org.
---