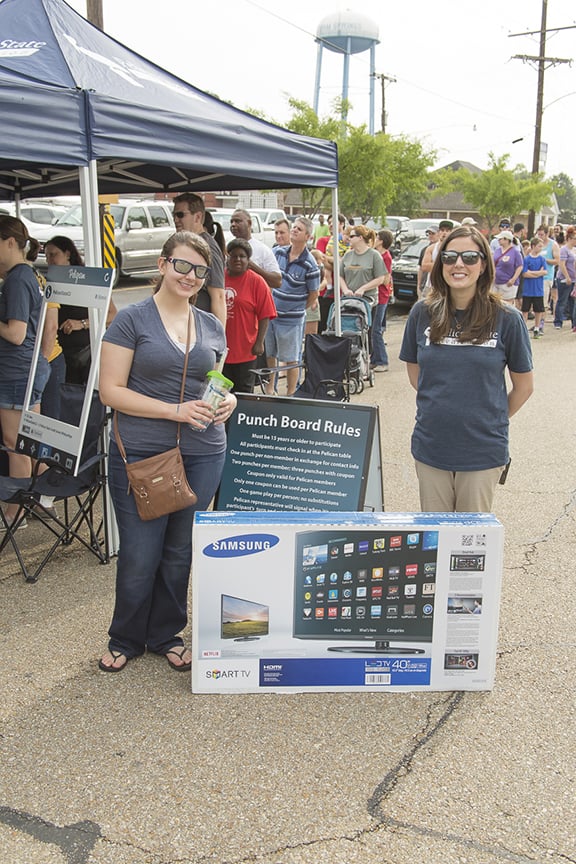 Pelican State Credit Union gives thousands in cash and prizes to festivalgoers despite rain
DENHAM SPRINGS, LA (April 30, 2015) — It pays to have a Pelican State Credit Union branch in your community!
The credit union gave away thousands of dollars in cash and prizes at the Denham Springs Antique Village Spring Festival on Saturday, April 25, 2015. One lucky Denham Springs resident, Dawn New, played Pelican's new punch board game and took home $100 cash and a 40-inch smart TV!
Pelican sponsored and presented the Spring Festival alongside the Denham Springs Antique Village Merchants Association. The credit union is the community partner of the association and enjoys supporting one of Livingston Parish's premier events. Pelican set up shop early and the line to play the game stretched 70 people deep when the festival started at 9 a.m.
All attendees 15 years old and older could take a turn at picking a cup(s) on the giant Pelican board and punching through the paper to see what prize they won! Pelican members received up to three punches, and other festivalgoers were given one punch each.
"Despite closing up early due to the inclement weather, over 200 people visited our tent to punch cups on the Pelican punch board in under 3 hours," said PeIican VP of Accounting and Marketing Melissa Ott.
A local balloon artist was also stationed at Pelican's tent to provide balloon animals free of charge from the credit union to children at the festival. Stephanie Morace from Balloonatics is a master at her trade and even created a pelican out of balloons!
"We had a great time giving away over 190 prizes and $978 cash to the Denham Springs community, and look forward to giving out even more at the Fall Festival in October," Ott added.
The credit union is dedicated to giving back to its members and supporting the Denham Springs community. Last year, the credit union gave away $4,000 in free groceries to shoppers at Carter's Supermarket and over $6,000 in cash and prizes between the Antique Village Spring and Fall Festivals. Pelican hosts a Kids Bike Race before school starts each year. The event is open to the public and is a completely free event that includes a face painting, games and refreshments. Pelican's 12th annual race will be held on July 25 at Abundant Life.
Pelican members can benefit from free one-on-one credit counseling, a variety of convenient products and services and several opportunities to win cash and prizes throughout the year. For information about becoming a Pelican member, please call Denham Springs Branch Manager Dawn Matthews at (225) 791-5393.
About Pelican State Credit Union
For over 58 years, Pelican State Credit Union has been providing financial services to individuals and their families throughout the state of Louisiana. The credit union is dedicated to improving the lives of its members through safe, competitive products and educational services. Pelican was originally chartered as the Department of Hospitals Credit Union, located in downtown Baton Rouge, to serve Louisiana charity hospitals, mental health centers and state office personnel. Pelican has since grown into one of the largest state chartered credit unions in Louisiana now serving over 40,000 members nationwide. For information, visit www.pelicanstatecu.com.
Photo caption: Pelican State Credit Union Member Solutions Manager Shandra Williams assists a festivalgoer as he punched cups on the Pelican Punch Board at the Denham Springs Antique Village Spring Festival.
---