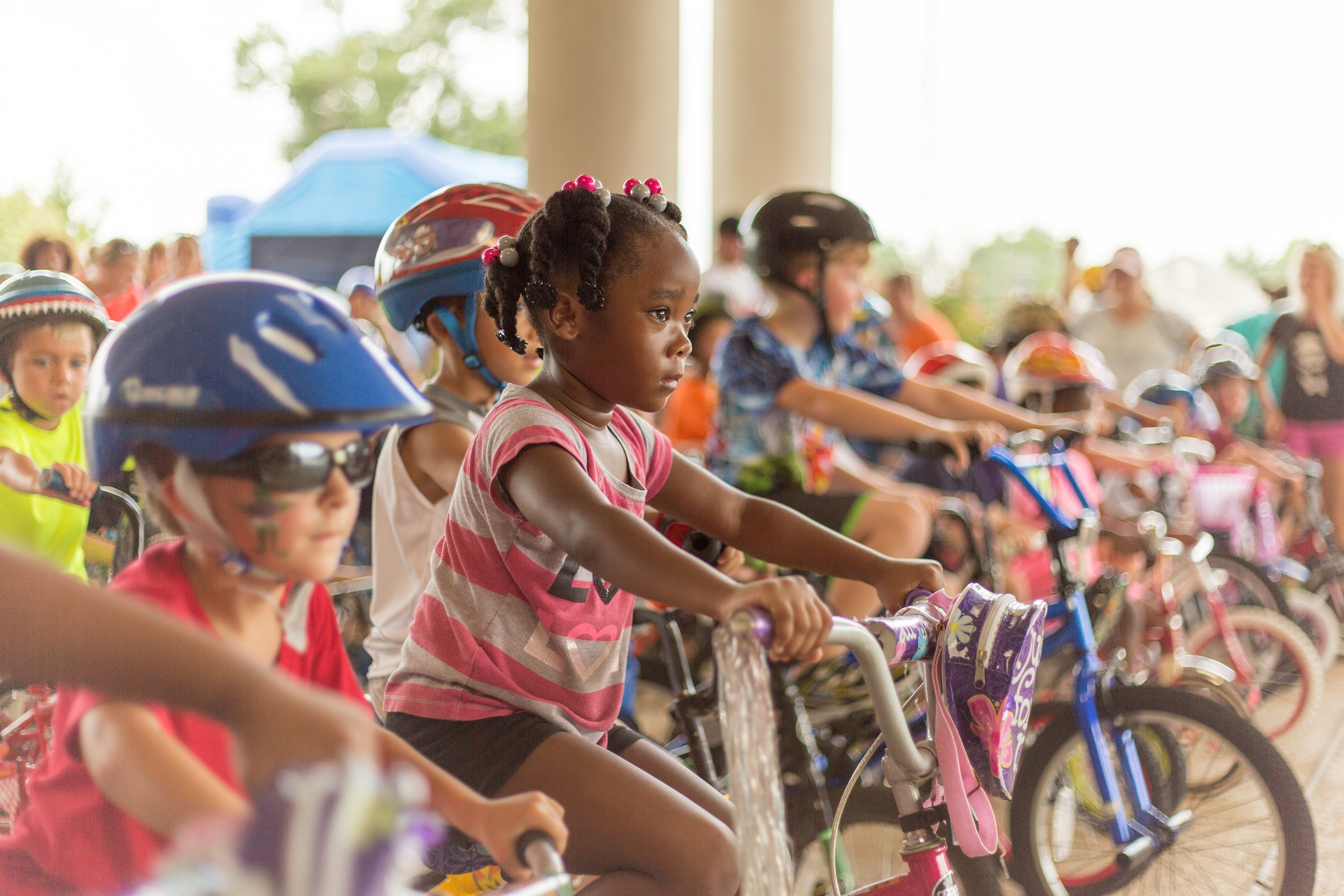 Pelican State Credit Union hosts 11th annual free Kids Bike Race
DENHAM SPRINGS, LA (July 28, 2014) — Eight-year-old Drew Sarhan recently learned to ride a bike and was excited to show off his skills on Saturday, July 26, at Pelican State Credit Union's 11th Annual FREE Kids Bike Race.
"I had a blast and made lots of new friends," said Sarhan. Sarhan and 91 other kids participated in three highly anticipated races divided by age group: 5 and under, 6 – 9 and 10 – 12. After each race, a lucky winner was drawn to win a new bicycle from Capitol Cyclery. Mikenzee Washington, Kohl Martin and Emma Elsea each held a winning raffle ticket in their respective age group.
"This event is all about getting kids up and moving. Pelican believes that both financial and physical health are important and loves providing an outlet for the community to come together year after year before school starts," said Jeffrey K. Conrad, CEO of Pelican State CU.
The Bike Race is fun for the whole family! In addition to the races, medals of completion, T-shirts and goody bags for all race participants, there were healthy refreshments, music, games, fire truck tours, a bounce house, photo booth, face painting and door prizes for parents.
"Each year, we will continue to offer this completely free event where all families can leave the cash at home and have some fun together outdoors," said Conrad.
This event is possible because of the support of its major sponsors: Flowers Baking Co. of Baton Rouge, LLC and Outdoor Powerhouse. Additional in-kind sponsors include A Bouncing Slide Company, Abundant Life Church, Ashleigh Morgan Photography, Carter's Grocery, Capitol Cyclery, Denham Springs Raising Canes, the Livingston Parish News, Crayzee Karaoke, Coca-Cola, the Livingston Parish Sheriff's Office, North Oaks Health System, Denham Springs Gatti's Pizza, the Denham Springs Fire Department, the Denham Springs Library, the Denham Springs Police Department, Denham Springs Wal-Mart, Denham Springs Smoothie King, Sport-N-Center and Sonic.
About Pelican State Credit Union
For more than 57 years, Pelican State Credit Union has been providing financial services to individuals and their families throughout the state of Louisiana. The credit union seeks to embody its mission statement each and every day, providing innovative products and services, with a continued, dedicated focus on member loyalty. Pelican was originally chartered as the Department of Hospitals Credit Union, located in downtown Baton Rouge. Its main membership served Louisiana Charity Hospitals, Mental Health Centers, and State Office Personnel. Pelican has since grown into one of the largest state chartered credit unions in Louisiana now serving over 35,000 members nationwide. For information, visit www.pelicanstatecu.com.
Pelican's Facebook: https://www.facebook.com/PelicanStateCreditUnion
---