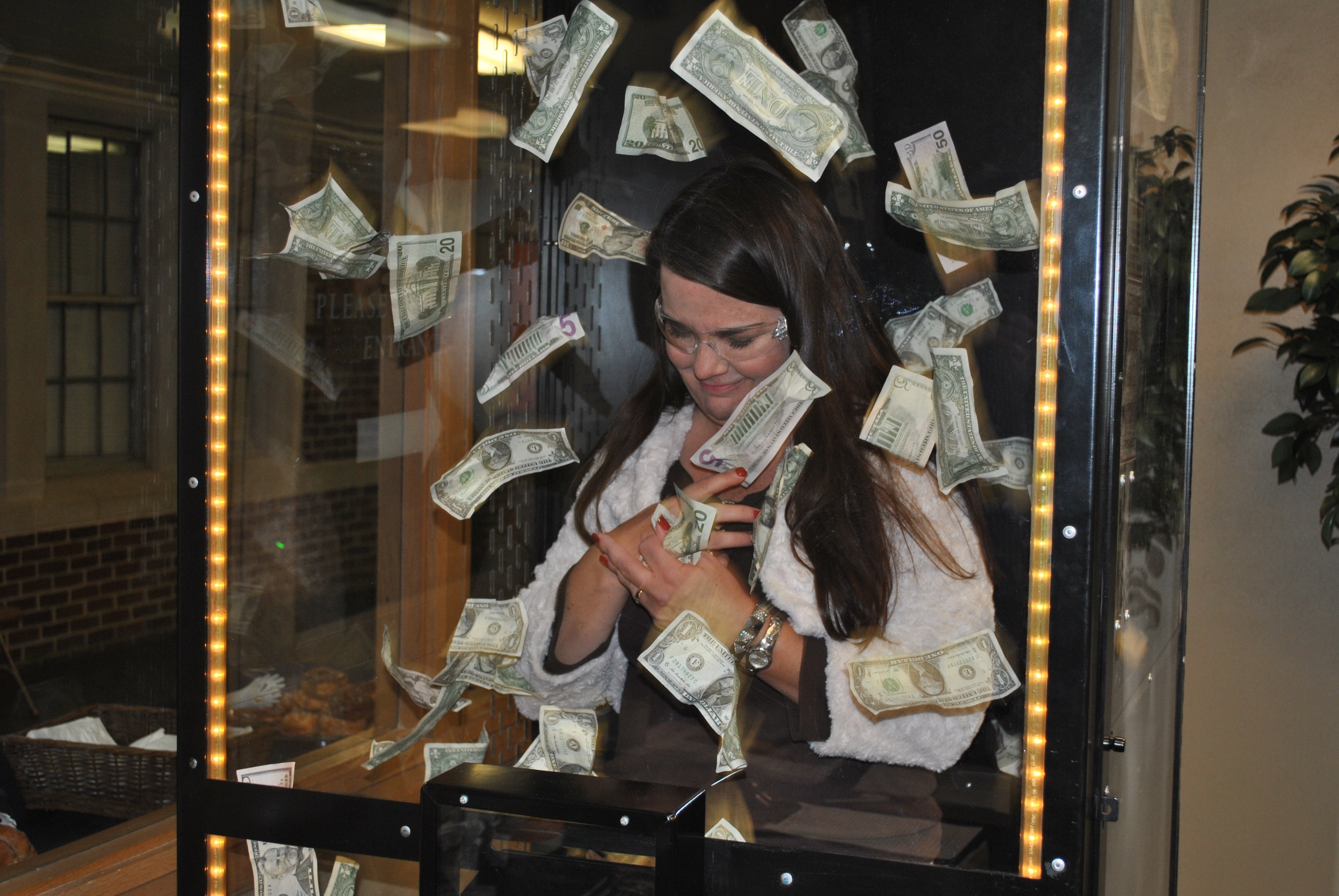 Pelican State Credit Union Opens First Financial Resource Center
SHREVEPORT, LA (April 10, 2013) – In partnership with Volunteers of America and the Church for the Highlands, Pelican State Credit Union celebrated the Grand Opening of its first Financial Resource Center last month. The center is located on the Volunteers of America campus in the historic Highland Neighborhood where residents do not have access to or do not qualify for low cost financial products.
To capture the community's attention, Pelican brought in a money booth and gave current and new members an opportunity to grab some fast cash. Pelican gave away $1,627 to the 73 members who took a turn in the money booth.
Although the money booth is a novelty, Pelican is serious about the purpose of this new endeavor.
"Our Financial Resource Center shares a mission with the Church and Volunteers of America – to teach independence. We want to convert unbanked Shreveport residents to credit union members, which will reduce the fee burden they now endure at pay day lenders, check cashers and authorized utility bill payment centers," said Jeffrey K. Conrad, Pelican CEO.
The Center will specialize in financial education. Heike Reagan, a nationally certified credit counselor, is stationed at this location and is available to meet one-on-one to help members improve their credit score, budget and stretch their paycheck by avoiding fees.
This partnership was initiated by the Church for the Highlands, who desired to add a financial ministry to the many programs already offered. The leaders of the Church reached out to Pelican because of its long history of providing financial education and community outreach.
The Center will focus on unsecured loans, credit cards, microbusiness loans, payday loan alternatives and second chance checking for members of modest means in an effort to revitalize the community. It is open Monday – Friday, 9 am – 5 pm.
Although the Center has the full operational capacity of a traditional branch including deposits, withdrawals and opening new accounts, you will not find a teller line or any other conventional branch fixture at this location.
"Pelican created an approachable, casual environment to make everyone feel welcome," said Conrad, "This, in addition to the wildly popular free coffee, has created a conversational atmosphere appreciated by our visitors."
This is the first Financial Resource Center for Pelican, which is headquartered in Baton Rouge and has 10 branches across the state. Pelican has received many accolades for its commitment to financial education and a federal grant to expand its efforts.
About Pelican State Credit Union
For more than 56 years, Pelican State Credit Union has been providing financial services to individuals and their families throughout the state of Louisiana. Since opening its doors in 1956, the credit union seeks to embody its mission statement each and every day, providing innovative products and services, with a continued, dedicated focus on member loyalty. Pelican State Credit Union was originally chartered as the Department of Hospitals Credit Union, located in downtown Baton Rouge. Its main membership served Louisiana Charity Hospitals, Mental Health Centers, and State Office Personnel. Pelican State has since grown into one of the largest state chartered credit unions in Louisiana now serving over 33,500 members nationwide. For information, visit www.pelicanstatecu.com.
---