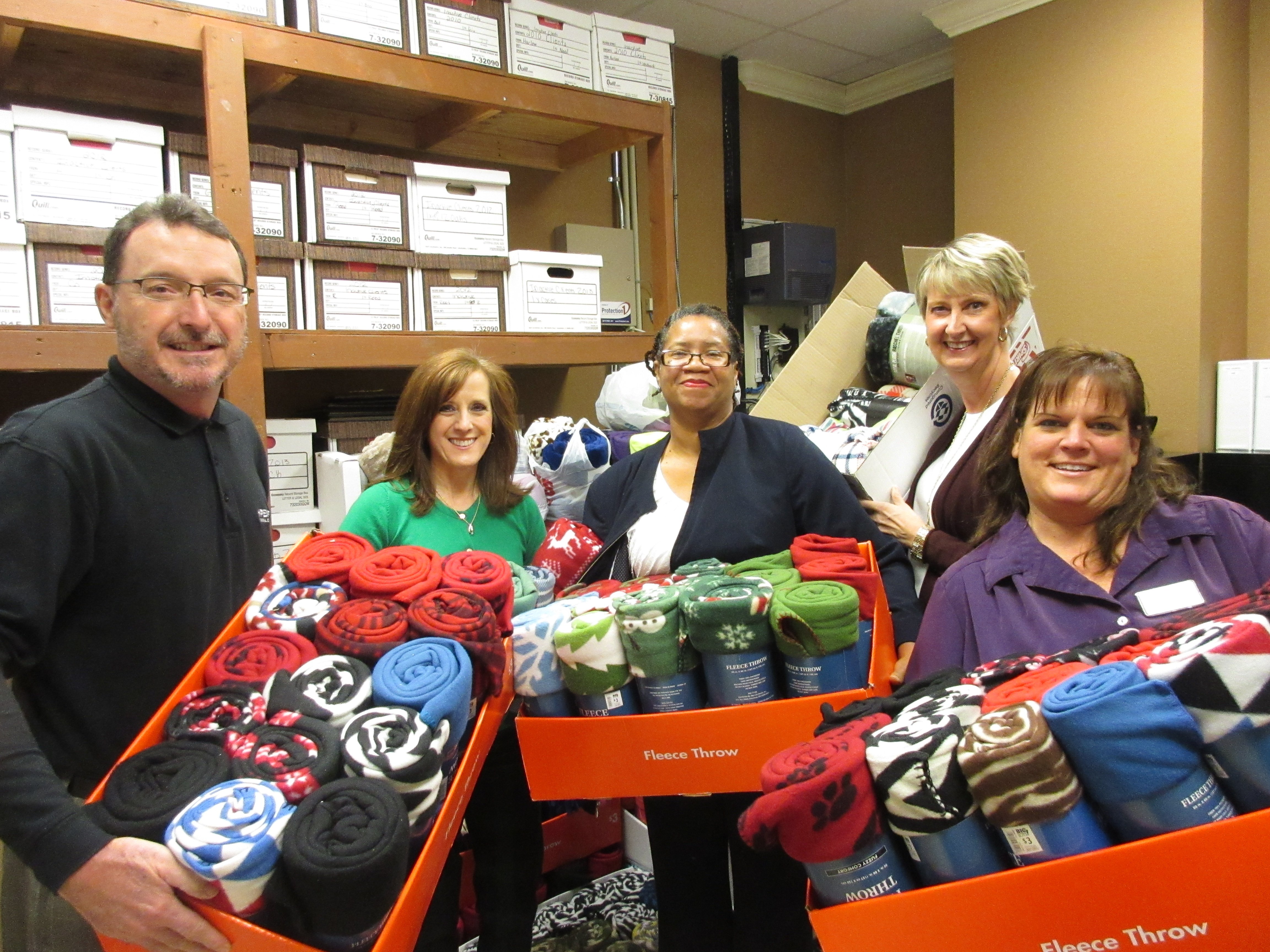 Pen Air Federal Credit Union donates over 350 blankets to local Granny Nannies Holiday Blanket Drive for Shut-ins
PENSACOLA, FL (December 1, 2014) — Pen Air Federal Credit Union answered the call to action to support the local Granny Nannies – a local licensed nursing agency, Holiday Blanket Drive for shut-ins with 351 blankets that will be distributed to three hospice facilities and several nursing homes in the area that are in much need of items for their patients.
This is the agency's third year for the holiday blanket drive. Granny Nannies, established in 1990, is a privately funded, licensed nursing agency whose mission is to be "a home health care agency committed to providing the highest quality of compassionate care to its clients who are seeking independent living in the comfort of their own homes or other suitable environment."
It is also an agency committed to giving back to the community and has devoted time, energy, and resources to ensure the success of the holiday blanket drive.
Each year, the Granny Nannies team has increased their goal for the annual blanket drive. This year the goal was set for 500 blankets. With the addition of the blankets donated by Pen Air Federal Credit Union, the agency has surpassed its goal. However, Granny Nannies has a list of facilities they can distribute the extra blankets due to such a high demand during the colder months. So, blankets are still welcomed.
"We are so pleased with the support we've received from the community and businesses such as Pen Air Federal Credit Union," commented Susan Clark, Community Relations Director of Granny Nannies.
Pen Air Federal Credit Union learned about the Holiday Blanket Drive while attending a Pace Area Chamber of Commerce Meeting. Debbie Kemp, Pen Air Collections Manager was present and brought back the information to the office to share with fellow staff. "The response was overwhelming," she comments, "The Pen Air Team continues to amaze me with its generosity. It is truly a great organization to be a part of because it really cares for the community."
About Granny Nannies
Granny Nannies has been specializing in high quality, affordable home care since 1990, and has earned the trust and reputation as the leader in the industry. All caregivers are Certified Nursing Assistants or Home Health Aides and provide assistant living service for people who are ill, returning home from the hospital, homebound, or facing challenges associated with aging or injury whether short-term or around the clock. For more information, visit www.grannynannies.com or call (850) 203-1674.
About Pen Air FCU
Established in 1936, Pen Air Federal Credit Union is the oldest and largest local credit union headquartered in Pensacola, Fla. Eighteen full service branches, including three student run credit unions in area high schools, serve members throughout Northwest Florida and Southeast Alabama with Internet and Mobile access providing worldwide reach. Pen Air FCU is a not-for-profit, financial cooperative with over $1.2 billion in assets, serving over 1,100 employee groups, and federally insured by the NCUA. Pen Air FCU is dedicated to enhancing lives through exceptional service, strength, and financial solutions. To learn more about Pen Air FCU, visit www.penair.org or call 1-877-4PEN AIR.
---