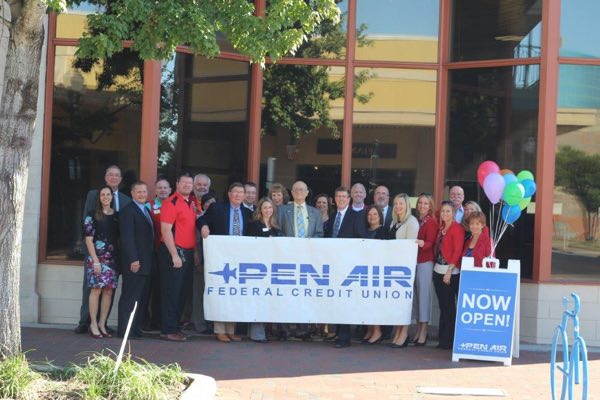 Pen Air Federal Credit Union opens downtown Pensacola Palafox office
Pensacola, Fla. (November 11, 2014) – Pen Air Federal Credit Union has opened the doors in downtown Pensacola, FL at 40 South Palafox Place becoming Pen Air FCU's sixteenth full service office. The Greater Pensacola Chamber of Commerce was on hand for the ribbon cutting ceremony to welcome the newest Downtown Business and Community Partner.
Over the last two years, there was much rumor about Pen Air Federal Credit Union coming to Palafox. Rumor has become reality. Today, Pen Air FCU occupies much of the 5-story historic Thiesen Building, utilizing the first floor to accommodate walk-in business as well as half of the second floor to accommodate Business Services and Public Relation initiatives. The second floor also offers a Community Room, free to non-profits seeking meeting space for special functions. The Community Room can accommodate up to 25 people comfortably and offers digital presentation capabilities. Interested organizations should contact the Pen Air FCU Palafox Office direct.
The Thiesen Building was Pensacola's first skyscraper whose entrance was designed with high ceilings and hand carved molding leading to exposed brick walls. Pen Air FCU has artfully blended these landmark details with contemporary touches to serve its members. One such feature is the Personal Teller Machine (PTM) which unlike the tradition Automated Teller Machine (ATM) offers one-on-one dialogue with a live representative through real-time video conferencing. Transactions above and beyond a traditional ATM can be conducted at these machines and actual coin can be disbursed if cashing a check.
For information concerning the Pen Air FCU Palafox Community Room and Palafox office services, please contact Kristal Kelley, Palafox Branch Manager at (850) 505-3200 x 8001 and visit Pen Air FCU's web site at www.penair.org for hours of operation and other information.
About Pen Air Federal Credit Union:
Established in 1936, Pen Air Federal Credit Union is the oldest and largest local credit union headquartered in Pensacola, FL. Several full service offices, ATMs, shared branching network, plus student run high school credit unions, combined with Internet and Mobile access provide worldwide reach. Pen Air FCU has over $1.2 billion in assets, serving over 1,000 employee groups. Visit www.penair.org or call 1-877-4PEN AIR for more information about Pen Air Federal Credit Union.
###
---