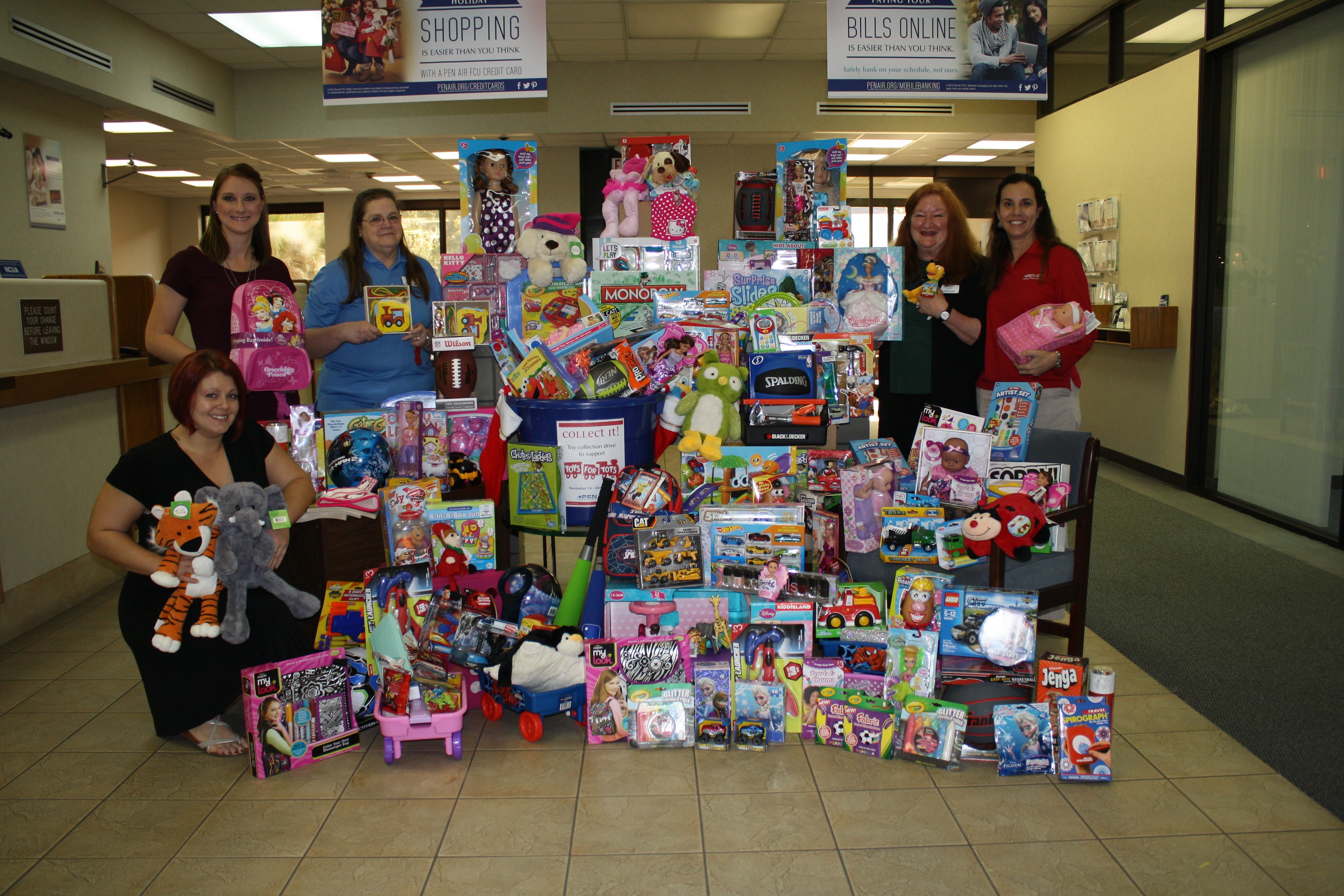 Pen Air Federal Credit Union responds to Marine Corps Toys for Tots Drive
PENSACOLA, FL (December 5, 2014) — Many children who would otherwise not have presents on Christmas morning will be happily surprised thanks to efforts of the U.S. Marine Corps Reserve Toys for Tots drive and the helping hand of Pen Air Federal Credit Union. Pen Air Federal Credit Union was able to collect an estimated value of over $1,000.00 in new toys for children ranging in age from infant to teens to be distributed in the weeks leading up to Christmas Day by various non-profit agencies that look to Toys for Tots to assist many families in need.
Toys for Tots began in 1947 when Major Bill Hendricks, United States Marine Corps Reserve and a group of Marine Reservists in Los Angeles collected and distributed 5,000 toys to needy children. The idea came from Bill's wife, Diane. In the fall of 1947, Diane handcrafted a Raggedy Ann doll and asked Bill to deliver the doll to an organization, which would give it to a needy child at Christmas. When Bill determined that no agency existed, Diane told Bill that he should start one. He did just that! The 1947 pilot project was so successful that the Marine Corps adopted Toys for Tots in 1948 and expanded it into a nationwide campaign. That year, Marine Corps Reserve units across the nation conducted Toys for Tots campaigns in each community in which a Marine Reserve Center was located. Marines have conducted successful nationwide campaigns at Christmas each year since 1948.
Over the last 67 years of the Marine Corps Reserve Toys for Tots Program, Marines have distributed more than 416 million toys for 195 million needy children. This charitable endeavor has made U.S. Marines the unchallenged leaders in looking after needy children at Christmas.
The mission of the Marine Corps Toys for Tots Foundation program is to collect new, unwrapped toys for needy children in the community during October, November, and December each year. However, local Toys for Tots Campaign Coordinators conduct an array of activities throughout the year, which include golf tournaments, foot races, bicycle races and other voluntary events designed to increase interest in Toys for Tots, and concurrently generate toys and monetary donations.
The local Marine Corps unit also spends many hours setting up drop box sites at various locations throughout the local community such as the Pen Air Federal Credit Union offices in an effort to collect as many toys as possible. "We are happy to use our offices as convenient drop-off sites for people of the community," explains Patty Veal, Director of Public Relations at Pen Air Federal Credit Union. "The generosity of our staff, members, and local community never fails to amaze me as I witness the amount of new toys that come into our offices for those less fortunate."
The Salvation Army partners with Toys for Tots to assist as one of the distribution centers and will spend much of the days prior to Christmas sorting and packaging up toys for families in our local community. The ultimate goal of the Toys for Tots program is to deliver a message of hope at Christmas to less fortunate youngsters that will assist them in becoming responsible, productive, and patriotic citizens.
About Toys for Tots:
The U. S. Marine Corps Reserve Toys for Tots Program is directed by the Commander, Marine Forces Reserve, with the assistance of his staff, from the Marine Forces Reserve Headquarters in New Orleans, Louisiana. The Marine Toys for Tots Foundation, an IRS recognized 501(c)(3) not-for-profit charity, is the authorized fundraising and support organization for the Toys for Tots Program. For more information about the Marine Toys for Tots Foundation and program, visit www.toysfortots.org.
About Pen Air Federal Credit Union:
Established in 1936, Pen Air Federal Credit Union is the oldest and largest local credit union headquartered in Pensacola, FL. Several full service offices, ATMs, shared branching network, plus student run high school credit unions, combined with Internet and Mobile access provide worldwide reach. Pen Air FCU has over $1.2 billion in assets, serving over 1,000 employee groups. Visit www.penair.org for more information about Pen Air Federal Credit Union.
---