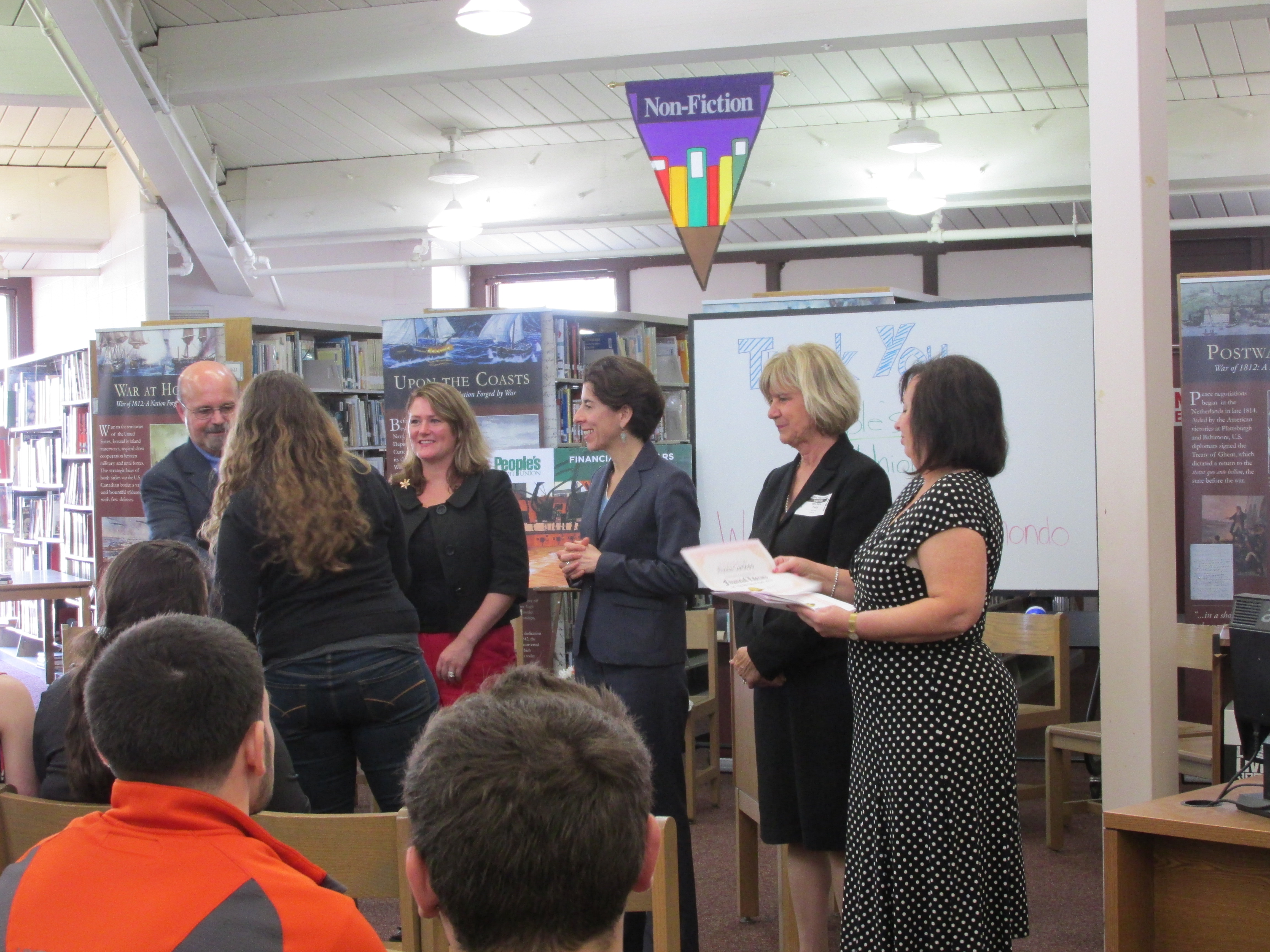 People's Credit Union, Treasurer Raimondo Recognize Student Achievement in Financial Literacy
MIDDLETOWN, RI (May 8, 2013) On Friday, May 3rd, People's Credit Union along with Rhode Island General Treasurer Gina M. Raimondo, recognized Mount Hope High School students for the completion of The Rhode Island Financial Scholars Program.  This innovative financial literacy program uses the latest technology to bring financial concepts to life.
"Educating today's youth on financial literacy is a priority at People's Credit Union.  It's extremely important to learn the value of money at a young age and we are happy to provide a program that can do that," commented Ellen Ford, People's President & CEO.
The Rhode Island Financial Scholars Program, sponsored by People's Credit Union, utilizes the EverFiTM platform, an online program that teachers can use as a valuable financial literacy tool that can easily integrate into a school's curriculum. The platform is aligned to state standards and consists of 10 modules covering critical financial literacy topics such as budgeting, credit health/scores, insurance, student loans, mortgages, taxes and saving and investing. People's Credit Union currently sponsors several schools throughout the state, at no cost to the participating schools.
"This program helps students understand the importance of making good, lifelong financial decisions," said Raimondo, who encouraged Peoples' partnership with the EverFiTM program. "I enjoyed spending time with Mount Hope High School students and am grateful to their teachers and administration for making financial empowerment a priority in the classroom."
"As a community partner, People's Credit Union is committed to providing tools to help teenagers form good financial habits that will stay with them throughout their lives," said Courtney Hunter, Business Development Officer for People's.
People's Credit Union serves members through six locations in Bristol, Middletown, Newport, North Kingstown, Portsmouth and Wakefield.
People's, a member-owned, state chartered, federally insured, community credit union established in 1922. Membership is open to all individuals. Deposits are insured up to $250,000 by the National Credit Union Administration (NCUA), an agency of the federal government.
---