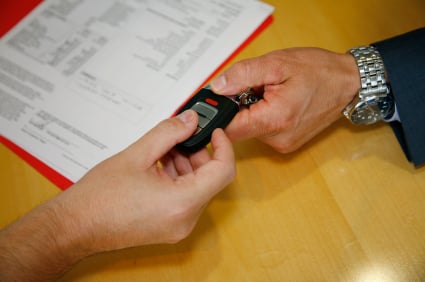 Personal Finance Expert Casey Bond Explains How a Big Down Payment on a Car May Not be the Key to Low Auto Loan Rates
In an ongoing Q&A series on www.GoBankingRates.com, expert Casey Bond answers readers' personal finance questions to help them make smart, informed money moves. In the most recent installment, Ms. Bond explains how to lower interest rates on a car loan, answering the question: "If I save up for a big down payment, will that help me get a better rate despite my lower credit score?"
EL SEGUNDO, CA (April 28, 2013) – Seeking the advice of a professional and doing research can lead a borrower to a better deal, as well as help to make smarter financial decisions. GoBankingRates' new Q&A series allows readers to gain expert insight to solve their most pressing financial problems. Personal finance expert, Casey Bond, shares her expertise on topics such as budgeting, saving money, mortgages, auto loans, and more.
The most recent question comes from a reader who doesn't have great credit, but is still looking for a good deal on auto financing: "I would like to take out an auto loan to buy a new car, but I don't have the best credit. If I save up for a big down payment (20 percent or more), will that help me get a better rate despite my lower credit score?"
Ms. Bond explains that for lenders, the auto loan approval process is all about calculating risk: "More money up front from you means less risk for the lender, so they won't have to charge quite as high of a rate to offset the risk of little money down in addition to poor credit."
But borrowers shouldn't jump on the first lower auto loan rate offered to them, advises Ms. Bond. "Just because the interest rate is lower doesn't necessarily mean it's a good interest rate — or worth paying."
While saving up for a large down payment on a car is a smart start, Ms. Bond suggests that consumers with poor credit also take the time to review their credit history, understand why their score is low, and look for ways to improve it.
"Whether or not saving up a larger down payment on a car makes sense will depend on why your credit is low and if there is something you can do to repair it fairly quickly," says Ms. Bond.
For questions about this report or to schedule an interview with Casey Bond, please use the contact information below.
About Casey Bond
Casey Bond has been a professional within the finance industry for close to a decade. Today, Ms. Bond regularly appears on a number of major national publications in addition to GoBankingRates, including Business Insider, US News & World Report, and The Huffington Post. She can also be found on Yahoo Finance!, Fox Business, and LearnVest, as well as in Redbook and Style. Her highly-anticipated newsletter "Cents in the City" is set to launch in the second quarter of 2013.
About GoBankingRates
GoBankingRates.com is a national website dedicated to connecting readers with the best interest rates on financial services nationwide, as well as informative personal finance content, news and tools. GoBankingRates collects interest rate information from more than 4,000 U.S. banks and credit unions, making it the only online rates aggregator with the ability to provide the most comprehensive and authentic local interest rate information.
---