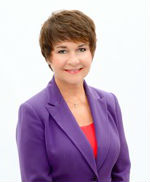 Piedmont Advantage Credit Union CEO Judy Tharp named to Federal Reserve Bank of Richmond's Community Depository Institutions Advisory Council
WINSTON-SALEM, NC (April 20, 2015) — Piedmont Advantage Credit Union and the Federal Reserve Bank of Richmond Fifth District announce the appointment of Piedmont Advantage President and CEO Judy Tharp to the Federal Reserve Bank of Richmond's Community Depository Institutions Advisory Council (CDIAC). The CDIAC advises the Federal Reserve Bank of Richmond's leaders and Board of Governors about the state of local economies, banking conditions, and other issues across the Fifth District. The council's 12 members meet twice a year representing banks, thrift institutions, and credit unions with assets of less than $10 billion. Tharp will serve on the CDIAC through mid-2018.
"Serving in this capacity, providing feedback to the Federal Reserve Bank Board of Governors is a role I take seriously and will also enjoy," says Tharp. "I believe the creation of the CDIAC in 2010 confirms that the Federal Reserve Bank desires to stay in-tune with what is happening in local economies. I'm proud to provide feedback on behalf of all the communities that Piedmont Advantage Credit Union serves."
With 36 years of experience, Tharp has served as CEO of $300 million/46,000-member Piedmont Advantage Credit Union since 2006. The credit union is full-service assisting members throughout the U.S. and around the world. She also believes in giving back to the communities she loves, serving as a mentor to young professionals in the industry and community.
"I appreciate having the opportunity to share my experiences with other professionals," explains Tharp. "Having an impact on those around me, and hopefully improving the lives of those I serve is my goal." Recently, Tharp received the 2015 Triad Business Journal's 'Women in Business' Leadership Award.' She was also University of North Carolina Wilmington's Cameron School of Business Alumnus of the Year in 2011.
"Judy is a tireless worker for our credit union, the community, and the financial services industry as a whole," says Piedmont Advantage Credit Union Chairperson Jim Taylor. "She has always inspired others to drive out our vision of enhancing the lives of our members/owners."
Tharp, a Certified Credit Union Executive (CCUE), supports a number of other credit union organizations. These include the Credit Union National Association, Credit Union Executives Society, Carolinas Credit Union League, First Carolina Corporate Credit Union, and Carolinas Credit Union Service Corporation. She also serves on the Board of Directors for Carolinas Credit Union Foundation, North Carolina Council on Economic Education, and Executive Advisory Board for the Cameron School of Business at UNC-Wilmington. Lastly, she is a member of the United Way Women's Leadership Council. Tharp says she's pleased to give her time to organizations that believe in the good of the community including her new role at the CDIAC.
For more information on Piedmont Advantage, visit www.pacu.com. To learn about the Federal Reserve Bank of Richmond, visit www.richmondfed.org.
About Piedmont Advantage Credit Union
Piedmont Advantage Credit Union is a member-owned, financial cooperative headquartered in Winston-Salem, N.C. with over $300 million in assets. The Credit Union serves 46,000 members living all across the country and around the world through its nine N.C. branch locations, internet access, and nationwide network of 5,000 Credit Union Service Center branches and 30,000 no-surcharge CO-OP ATMs. Membership is open to anyone who lives, works, worships, or attends school in the counties of Bladen, Brunswick, Columbus, Duplin, Forsyth, Guilford, Iredell, Mecklenburg, New Hanover, Pender or Rockingham, North Carolina. Membership also includes employees from one of the credit union's 100 select companies. For information, visit: www.pacu.com.
---