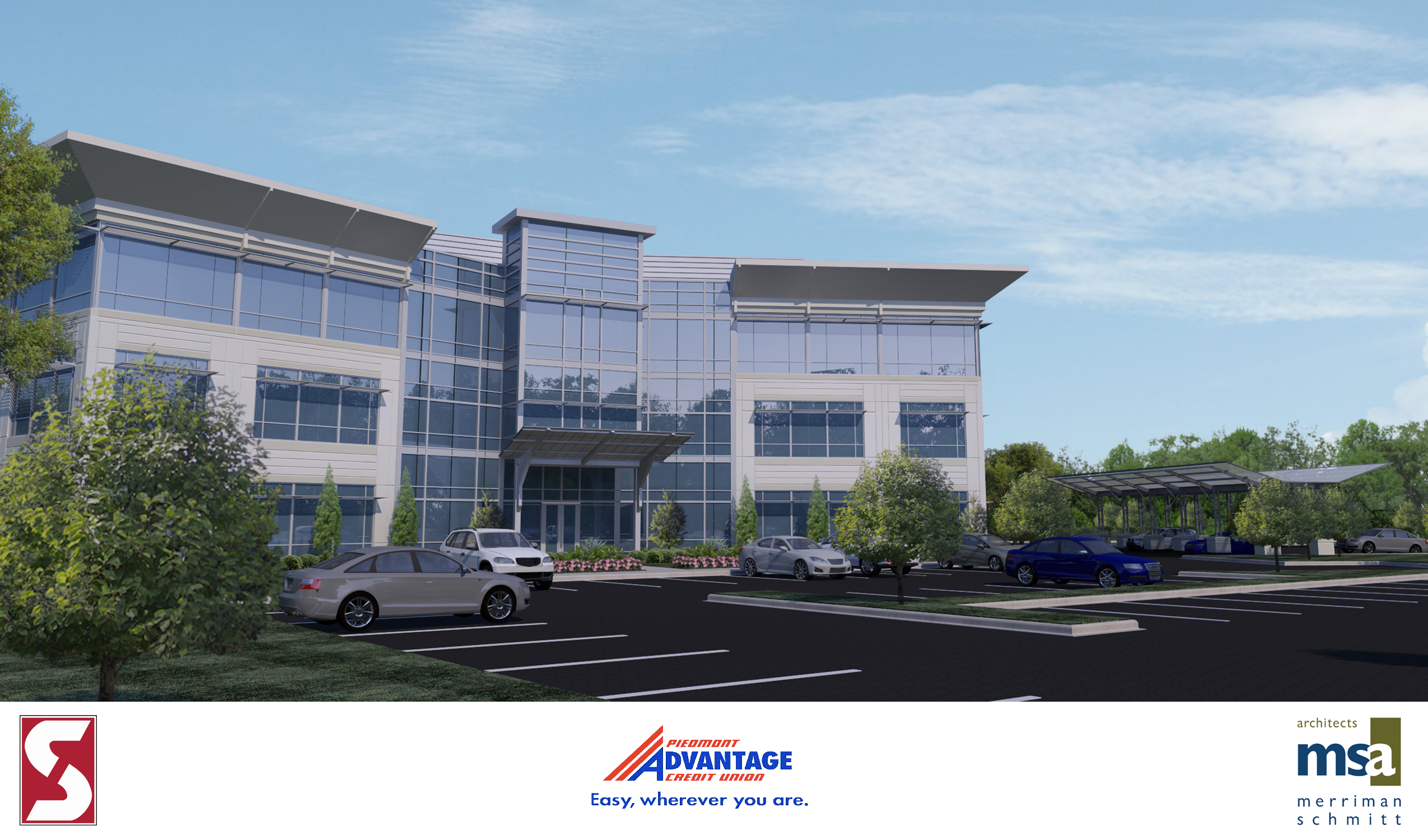 Piedmont Advantage Headquarters Groundbreaking
WINSTON-SALEM, NC (July 25, 2013) —  Piedmont Advantage Credit Union is pleased to announce the groundbreaking for our new corporate office. The ceremony will be held at 9 a.m. Thursday, July 25th at 3530 Advantage Way.
"This location will provide members with a new and exciting service experience, as well as improve productivity and visibility, making us easier than ever to do business with!" said Judy R. Tharp, President and Chief Executive Officer of Piedmont Advantage Credit Union.
The new building, centered on a three-story atrium, is designed to deliver financial services in a more efficient way.  In a new concept for this market, there will be three branch areas, an indoor ATM and drive-up service.  Members will have their own lounge area and refreshment counter.  With the community in mind, there will be a large multi-purpose room that opens onto an outdoor plaza.
"Our vision in this design enables us to deepen relationships within the community and enhance the lives of our members, as well as create new efficiencies in our operations." Tharp added.
The flagship branch's central and convenient location is near the corner of Stratford Road and Burke Mill Road in Winston-Salem.  And as the anchor of Piedmont Advantage Park, the new headquarters will spur economic development for the region, both with initial construction employment, and future business neighbors at the site.
Piedmont Advantage Credit Union is a member-owned, not-for-profit financial institution headquartered in Winston-Salem, NC with over $244MM in assets. The Credit Union serves over 42,500 members across the country and around the world through its online product offerings and extensive network of shared branching and CO-OP ATMs. Piedmont Advantage Credit Union currently operates in 10 North Carolina branch locations, with 5,000(+) Credit Union Service Center branches, and 30,000(+) surcharge-free CO-OP ATMs locations nationwide. For more information, visit: www.pacu.com.
---