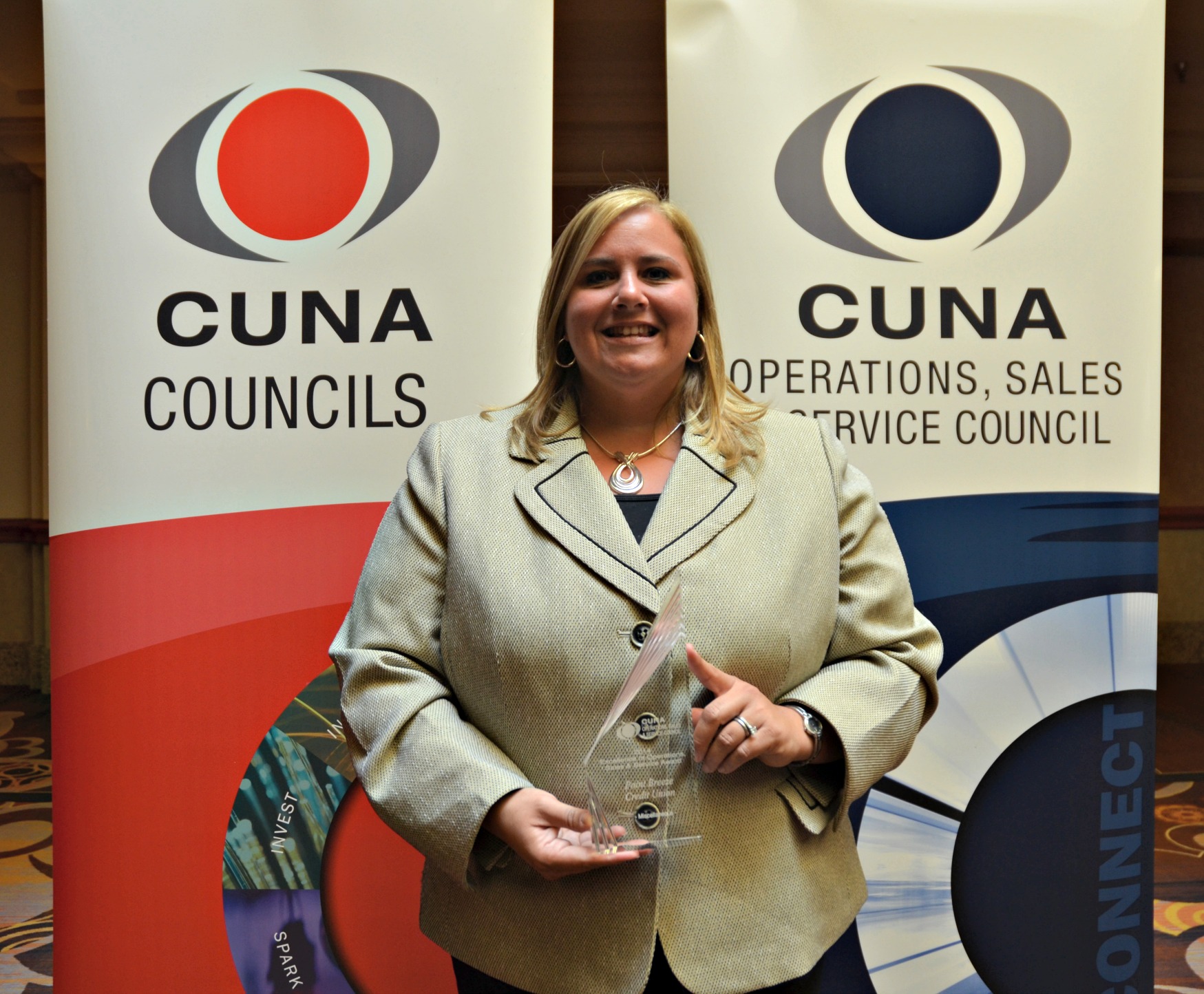 Point Breeze Credit Union receives National Industry Excellence Award
Credit Union National Association Honors Point Breeze for Innovative Solutions in Optimizing Performance
HUNT VALLEY, MD (September 29, 2014) — Point Breeze Credit Union was recently honored with an Excellence Award by the Credit Union National Association (CUNA) Operations, Sales & Service Council. The award recognizes Point Breeze for innovative solutions in optimizing credit union performance.
Point Breeze Credit Union won the award in the miscellaneous category for its new centralized lending structure that provided more efficient member services and significantly grew loan portfolios. In 2013 the Credit Union experienced record net loan growth of 8.4%. Point Breeze's improved efficiency and performance is also credited to the implementation of a formal rate committee to quickly react to market rates as well as adding RV and motorcycle loans to their Indirect Lending Program. The program addition attributed to an increase of 40.8% in the RV and motorcycle loan categories.
"By focusing our efforts and changing to a centralized lending environment, establishing a rate committee, and adding to our indirect lending channel, Point Breeze has become a more efficient and attractive option for our members," Bernard McLaughlin, President and CEO of Point Breeze Credit Union.
The CUNA Operations, Sales & Service Council is a national network of more than 850 credit union operations, sales & service professionals across the United States.
"The Operations, Sales & Service Council Excellence Award recognizes and honors credit unions for their leadership and vision in Operations, Sales and Service in the credit union industry," said Steve Stryker, Chair of the Awards Committee for CUNA. "We were overwhelmed by the amazing stories all of the entrants shared with us and they should be proud of what they have achieved. Whether it is remaking a branch for the 21st Century or collaborating with other credit unions to save members money, their creativity and originality can inspire us all."
Shannon Carter accepted the award on behalf of Point Breeze Credit Union at the CUNA Operations, Sales & Service Council's 17th annual conference held September 21-24, 2014 in Las Vegas.
About Point Breeze Credit Union
Point Breeze Credit Union is a member-owned, not-for-profit financial cooperative. Currently, we are one of the largest credit unions in Maryland, with offices located in Hunt Valley, Rosedale and Bel Air. Point Breeze serves more than 500 Employer Groups and over 49,000 members in the Greater Baltimore area, with total assets exceeding $735 million. Our mission is to provide a superior financial experience for our members. We are people helping people achieve their goals and, as neighbors, we believe that a prosperous community benefits all. Point Breeze offers consumer and business checking, savings and loan services. Federally Insured by NCUA. Equal Housing Lender. For more information, please visit www.pbcu.com.
 About the CUNA Operations, Sales & Service Council
The CUNA Operations, Sales & Service (OpSS) Council is a member-led partnership of operations, sales, and service professionals dedicated to providing education, leadership, networking support, professional development tools, and expertise to its members in order to shape the enhancement of the role and diversity of operations in the credit union industry. The CUNA OpSS Council is one of the six organizations that make up the CUNA Councils, a network of more than 6,000 credit union professionals. For more information, visit www.cunaopsscouncil.org or www.cunacouncils.org.
---