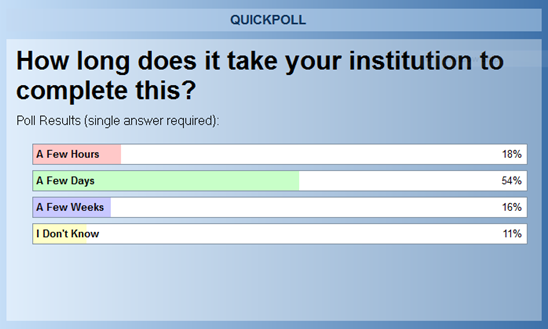 Poll: Disclosure Reports Take Days or Weeks to Complete
March 2013 – Sageworks recently hosted a webinar, "ALLL" About Disclosure Reports: Key Issues to Know, featuring Ancin Cooley, principal of Synergy Credit Union Consulting and Ed Bayer, senior risk management consultant at Sageworks. The webinar discussed FASB Accounting Standards Update (ASU) 2010-20 and the challenges that financial institutions face as a result. One of the challenges is that the new reporting process takes additional time and resources.
During the webinar, the following question was asked: How long does it take your institution to complete the disclosure reporting process? Over 130 institutions responded, with 70% saying that it takes at least a few days to complete these reports.
For more information about the requirements and challenges surrounding disclosure reports, download the whitepaper titled: 6 Key Things to Know About Disclosure Reports. Slides and a recording of the webinar presentation are also available here.

About Sageworks
Raleigh, NC-based Sageworks is a financial information company and provider of financial analysis solutions, including an ALLL methodology solution. Sageworks' data and applications are used by thousands of accounting firms and banks across North America. The company has been named to the Inc. 500 list of the fastest growing privately held companies in the U.S. and to the Deloitte Technology Fast 500.
---