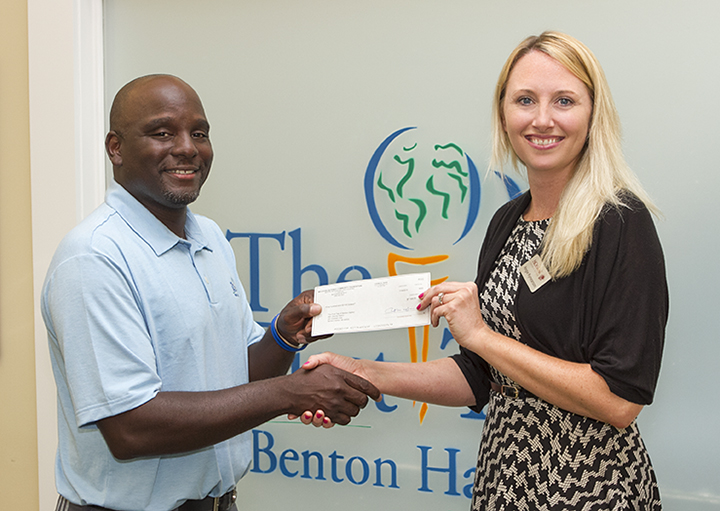 Powered By Honor® Donates to The First Tee of Benton Harbor
ST. JOSEPH, MICHIGAN (August 6, 2013) — Powered By Honor® is thrilled to announce it has donated $500 to The First Tee of Benton Harbor.
The $500 donation will go towards their summer program which serves over 400 youth ages 5-17 throughout the Southwest Michigan summer. The mission of The First Tee of Benton Harbor is to positively impact the lives of our local youth by providing educational programs that build character, instill life-enhancing values, and promote future potential through the game of golf.
"It's a great opportunity for us to further benefit a great program that helps to develop our youth in our community" said Education and Development Manager Angie Rynearson of Honor Credit Union.
The donation provides an opportunity for Powered By Honor® to help better enhance the learning experience of more than 1,500 participants yearly from our surrounding communities.
Powered By Honor® funds many of Honor Credit Union's current community programs as well as the donations madethroughout the year to various organizations. Powered By Honor® is funded through a wide range of channels: Honor Credit Union's employee donations, proceeds from Honor's Member Perks program, a portion of Honor's debit and credit card fee income, and various fundraising activities.
In addition to corporate donations and sponsorships for many local organizations, Honor Credit Union team members contribute countless hours of service to our communities and organizations every year.  Honor Credit Union, a $460 million credit union, provides a wide range of affordable financial services to more than 39,000 members in fourteen Michigan counties.  To find out more, call 800.442.2800, or visit www.honorcu.com.
---