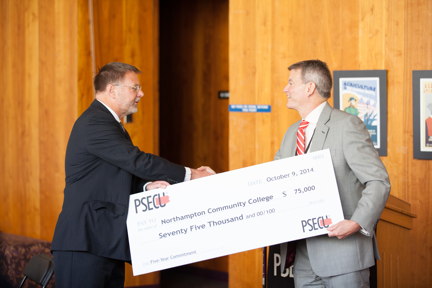 PSECU holds grand opening reception for Northampton Community College location
HARRISBURG, PA (October 15, 2014) – On October 9, 2014, executives from PSECU and Northampton Community College, as well as members of the campus community, joined together to celebrate the formal grand opening reception for PSECU's new campus location. The reception was held in College Center.
In August, PSECU opened its 16th campus location at Northampton Community College. The Bethlehem, PA, community college marks the third community college participating in PSECU's campus program. Participation in PSECU's campus program allows students, faculty and staff of the college to benefit from the high quality, low- or no-fee financial services and products and free financial education programs offered by the credit union.
As an organization with a focus on community outreach and engagement, PSECU will devote a variety of resources to the Northampton community. PSECU will offer on-campus internship opportunities for students, sponsor campus events and provide $15,000 annually for student scholarships.
All members of the campus community are invited to visit the new PSECU location in College Center, 1st floor, to learn more.
Opened in 1934, PSECU was founded by twenty-two ordinary people who made an extraordinary commitment to each other: To create a financial institution where pooled resources benefit all members.  Today, we are a full-service credit union serving more than 400,000 members and have more than $4 billion in assets. As a not-for-profit financial institution, our goal remains to help our members and their families achieve a better life.
Greg Smith, PSECU President, presents Dr. Mark Erickson, President of Northampton Community College, with a check demonstrating PSECU's five-year commitment to scholarship funds for Northampton Community College students.
---