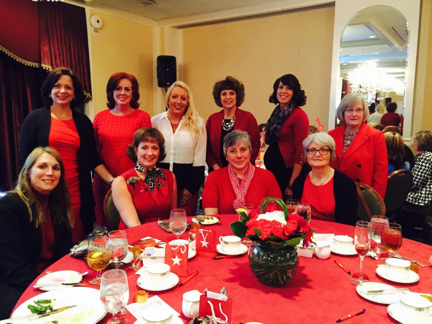 PSECU sponsors Go Red for Women luncheons
HARRISBURG, PA (May 27, 2015) — Throughout the month of May, PSECU representatives participated in three American Heart and American Stroke Association Go Red for Women luncheons. These events promote awareness of risk factors and provide tips for improving heart health for women. They are also fundraisers, and the most recent tally showed that at least $135,000 was raised. PSECU was also the Social Spark sponsor for these luncheons in Lancaster, Lehigh Valley, and the Capital Region. The aim of this specific sponsorship is to get attendees to consider and share with friends what their "why" is for wanting to lead a healthier life.
In addition to sponsorship, PSECU staff members assisted in organizing the events. Barb Bowker, Vice President of Marketing, was the Chair of the Capital Region luncheon event. Karen Rousche, Public Relations Coordinator, served on the "Pursonalities" Auction Committee for the Capital Region event. Gail Wenger, Director of Marketing and Research Analytics, was on the Executive Leadership Team for the Lancaster event.
Opened in 1934, PSECU was founded by 22 ordinary people who made an extraordinary commitment to each other: To create a financial institution where pooled resources benefit all members. Today, we are a full-service credit union serving more than 400,000 members and have over $4 billion in assets. As a not-for-profit financial institution, our goal remains to help our members and their families achieve a better life.
Photo caption: Barb Bowker, PSECU's Vice President of Marketing and Chair of the Capital Region luncheon event (pictured in the first row, second from the left), enjoys lunch with staff at the Go Red for Women luncheon on May 21, 2015 at the Hotel Hershey.
---